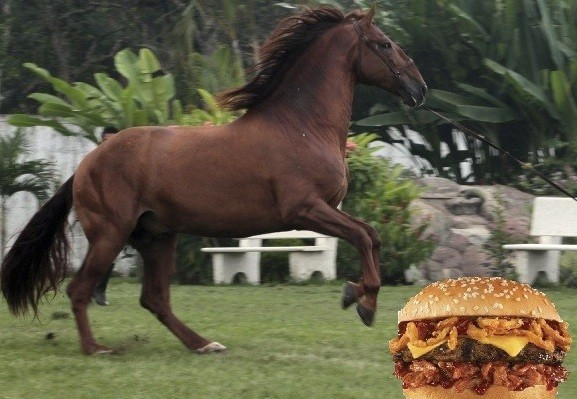 Tesco PLC's share price fell in London trading after revelations from an Irish food industry regulator that some of the supermarket's burger products contained horsemeat.
At 10:30am GMT Tesco shares were at 345.70 on the London Stock Exchange, down -1.12 percent.
The Food Service Authority of Ireland analysed 27 beefburger products sold by supermarkets and found that 10 tested positive for horse DNA.
Nine of these 10 contained "very low levels" of horse DNA, but one beefburger product - from Tesco - was made up of 29 percent horsemeat.
There is no health risk from eating horsemeat and it is popular in some parts of the world, such as France, though it is rarely eaten in Ireland and the UK.
"We immediately withdrew from sale all products from the supplier in question," said Tim Smith, Tesco's Group Technical Director.
"We are working with the authorities in Ireland and the UK, and with the supplier concerned, to urgently understand how this has happened and how to ensure it does not happen again.
"We will not take any products from this site until the conclusion and satisfactory resolution of an investigation."
Other shops stocking products from suppliers with beef products containing traces of horse, as well as pig DNA, include Lidl, Aldi, Dunnes Stores, and Iceland.
"Whilst, there is a plausible explanation for the presence of pig DNA in these products due to the fact that meat from different animals is processed in the same meat plants, there is no clear explanation at this time for the presence of horse DNA in products emanating from meat plants that do not use horsemeat in their production process," said Professor Alan Reilly, Chief Executive of the FSAI.
"In Ireland, it is not in our culture to eat horsemeat and therefore, we do not expect to find it in a burger.
"Likewise, for some religious groups or people who abstain from eating pig meat, the presence of traces of pig DNA is unacceptable."
Twitter users flooded the social networking site with horse puns and jokes poking fun at the horsemeat fuss.
"I expect this only relates to those mini-burgers you have as snacks. You know, the horse d'oeuvres," wrote one.
"A man has been taken to hospital after eating #horsemeat burgers. His condition is said to be stable," another user joked.
---
Follow @shanecroucher