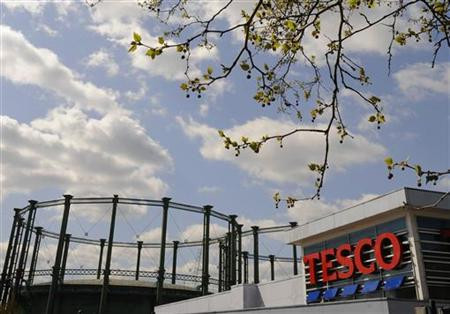 Tesco first quarter interim management statement today shows that the World no 3 retailer is in line to make its planned £67 bn of revenues and £4.6 bn pre-tax profits this year after sales rose 8.2 pct globally.
The supermarket said that Asia, in particular, had held up with 15.4 pct growth, whilst Europe grew 7.3 pct and USA grew 37.8 pct, in part, due to the growing nature of the business there that is yet to take a significant market share.
In the UK, like-for-like sales were up 1.1 pct, whilst overall growth remained high at 3.8 pct. Low food price inflation in the UK meant that growth was lower than elsewhere as the high price of fuel meant that food prices were kept low.
"Tesco has made a solid start to the new financial year. We're making good progress with our strategy: investing in the shopping trip for customers; driving strong productivity gains; growing space and winning market share. The long-term global recovery is well underway although the pace and strength of economic recovery varies across our markets. We're in good shape and well-positioned to deliver further growth as the economic environment continues to improve." said Chief Executive Terry Leahy.
The consumer also appeared to have recovered as Tesco announced that longer-term trends in international sales growth are encouraging, whilst sales of the finest range and non-food like-for-like growth are positive in the UK:
"Although customers in the UK continue to face some uncertainties about their personal finances going forward, we continue to see evidence of a steady consumer recovery" said the statement on Q1 IMS.
Richard Hunter, Head of UK Equities at Hargreaves Lansdown Stockbrokers, commented "Today's update is a mixed bag from Tesco, following on from a solid if unexciting set of full year figures two months ago.
On the upside, sales in Asia have risen strongly, underpinning the company's strategy of geographical diversification. Furthermore, the general sales figures are much in line with expectations. In the UK, however, the picture is flat and the likely and impending austerity measures will make life even more difficult. Coupled with weakening demand and easing food inflation, Tesco is struggling to make the kind of headway to which the market has become accustomed. The previously announced retirement of the CEO adds further uncertainty whilst Tesco's rivals continue to make their presence felt and threaten slowly to erode its dominant position.
In all, the shares have disappointed over the last year, rising just 7%, during which time the wider FTSE100 has gained 20%. In the last three months the shares have similarly underperformed, and with high expectations, this update is unlikely to lead to upgrades. For the moment, the market consensus is that the shares are a very cautious buy for those investors of a steely disposition."