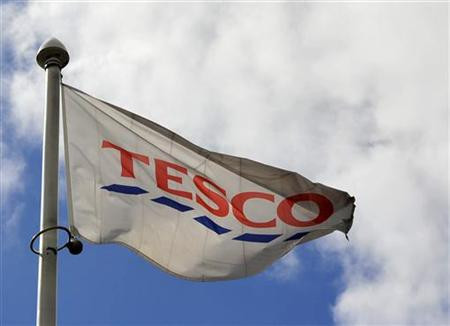 Shares in Tesco were down on the FTSE 100 in morning trading despite the supermarket giant reporting a rise in sales in the six weeks to 8 January 2011.
Group sales in the period were up 7.6 per cent, with total international sales increasing 14.2 per cent thanks to strong performances in Asia, Europe and the United States.
Tesco said that it had seen strong like for like sales for food items but added that the snow had meant sales growth of non-food items had been "subdued".
Online sales at Tesco saw double-digit growth, while Tesco Direct reported sales growth of 18 per cent.
Terry Leahy, Chief Executive of Tesco, commented, "The Group has continued to make good progress, helped by strong growth across our international businesses, which delivered over half of the Group's growth. Our performance remains solid but was hindered in the run up to the important Christmas trading period in the UK by the disruptive effects of the severe winter weather conditions. Our staff and suppliers did a fantastic job in delivering a great shopping trip for customers in difficult circumstances."
Richard Hunter, Head of UK Equities at Hargreaves Lansdown Stockbrokers, said, "Compared to its peers and the high expectations which the company carries, Tesco has fallen short today, as reflected by the share price drop in early trade.
"Anaemic sales growth within its core UK market is a disappointment, particularly given the fact that the severe weather conditions actually provided a positive opportunity for the likes of Sainsbury. This comparative weakness has been seized upon by investors, which is a testament to the outperformance which the market demands from Tesco. There are, indeed, positives within the statement, such as the growth in online sales and, especially, the performance of international business where the progressive trajectory has been maintained. This geographical diversification is of benefit to the company as a whole when the core domestic market is misfiring and to some extent gives Tesco an edge over many of its rivals.
"The share price movement has recently reflected the fact that the company has yet to convince investors of the long term potential - the shares have gained just 1% over the last year, during which time the wider FTSE100 has added 11%. Even so, the size of the business cannot be ignored and as such, the general market view is that Tesco is a cautious buy."
By 10:00 shares in Tesco were down 1.45 per cent on the FTSE 100 to 417.55 pence per share.