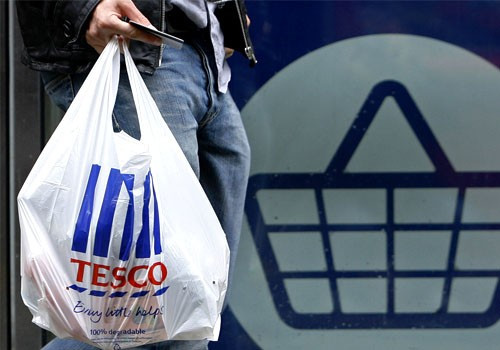 Shares in Tesco were down on the FTSE 100 in morning trading despite the supermarket giant reporting a rise in sales and pre-tax profit in the full year ended 26 February.
Group sales (including VAT) in the period were up 8.1 per cent to £67.6 billion, while underlying per-tax profit increased 12.3 per cent to £3.8 billion. The figures were significantly above analyst forecasts, which predicted sales of £61.7 billion and pre-tax profit of £3.54 billion.
As has become usual for Tesco, the group's growth figures were most impressive in its non-British and especially Asian markets.
In Britain the group's trading profit increased 3.8 per cent to £2.5 billion, while in Asia trading profit rose 29.5 per cent to £570 million. In Europe trading profit was up 11.2 per cent to £527 million while in the U.S. trading profit fell 12.7 per cent, making for a loss of £186 million.
The group's overall net debt during the period was cut by £1.1 billion to £6.8 billion.
Following the results Tesco said it would be raising its total dividend 10.8 per cent to 14.46 pence per share.
Philip Clarke, Chief Executive of Tesco, said, "I am pleased with our strong overall performance in the face of some challenging conditions and we are well-positioned, with multiple opportunities to deliver long-term growth and rising returns. I want to thank the 500,000 people who work at Tesco for their contribution to this performance.
"We have equipped the business for global growth with new management structures and teams -including an experienced UK Board, which is bringing more focus and energy to our largest business. Asia and Europe made excellent progress contributing nearly 70% of our profit growth in the year. The momentum in the USA is building but still has some way to go."
Richard Hunter, Head of UK Equities at Hargreaves Lansdown Stockbrokers, commented, "Tesco's international spread has again come to the rescue as its home market struggles to come to terms with the age of austerity.
"The company highlighted growth in Asia and Europe as being particularly robust, with progress in the US beginning to gain traction. The new CEO is clearly aiming to drive further growth, both through innovation and the release of capital for further expansion. On the downside, the picture in the UK market is looking increasingly bleak, although the company's defensive qualities should provide some support. In addition, the competitive environment remains intense, whilst the change of top management will take some time to establish itself. However, the business is clearly underpinned by its foreign contributions, the company is cash generative and the dividend policy is progressive.
"The shares have not necessarily kept pace with the positive sentiment which the market bestows on the company, having given up 8% over the last six months, during which time the wider FTSE100 has added 3%. However, these numbers should give further proof that this faith is justified and the market consensus of the shares as a buy is likely to be maintained."
By 09:00 shares in Tesco were down 0.92 per cent on the FTSE 100 to 396.30 pence per share.