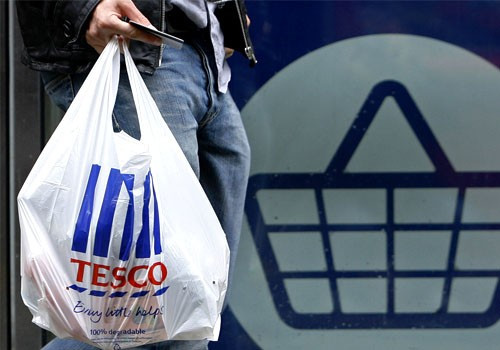 Shares in Tesco were up on the FTSE 100 in morning trading after the supermarket giant reported a rise in sales in its third quarter ended 27 November.
Group sales were reported as being up 8.8 per cent, with international sales rising 15.7 per cent. In Asia the group saw its sales rise 23.4 per cent, European sales climbed 7.6 per cent, U.S. sales increased 38.5 per cent, due to Thanksgiving, while in Britain sales rose 5.0 per cent.
Tesco said that it was still trading in line with market expectations.
Terry Leahy, Chief Executive of Tesco, said, "We've made good progress in the third quarter with growth from across the Group. Our continued investment in the shopping trip and our new space opening programme across our markets are giving us good sales momentum and market share gains. As the global economic recovery gathers pace, our broad-based strategy, combined with our ongoing focus on productivity savings, is enabling us to maintain growth in a sustainable, profitable way - delivering value for customers and for shareholders."
Richard Hunter, Head of UK Equities at Hargreaves Lansdown Stockbrokers, commented, "In investment terms, Tesco has been something of a serial underperformer of late, but there are some encouraging signs in this statement.
"In particular, the growth in overseas sales continues apace, with promising numbers from Europe, Asia and the US. Whilst revenues from the US are still a minor percentage of overall group income, after a rocky start there seems to be a steady gathering of momentum. This geographical diversification sets Tesco apart from most of its UK rivals, and the ambitious plans for China over the next five years could also provide for further growth. Meanwhile, trading in the UK was accompanied by a defiant description of a steadily recovering consumer, whilst the shares trade on an undemanding rating. On the downside, higher food inflation, the change in senior management and pressure on the group's non-food business continue to drag on the shares.
"The high expectations surrounding the company have not been adequately met over the last year, as the share price has drifted 3%, as against a 9% hike in the FTSE100. There may, however, be increasing reasons to be cheerful, as reflected by the current market consensus of Tesco as a cautious buy."
By 09:10 shares in Tesco were up 1.37 per cent on the FTSE 100 to 425.75 pence per share.