Tesla will unveil two new batteries on 30 April, one for the home and another, much larger version called a utility scale battery.
A note from the company's vice president of investor relations says the company, owned by Elon Musk, will "introduce the Tesla home battery and a very large utility scale battery...we will explain the advantages of our solutions and why past battery options were not compelling".
The note, obtained by Buzzfeed, confirms much of what was expected from the press event next week, as Musk tweeted in late March that a "major" new product line which is "not a car" will be unveiled at the company's Hawthorne Design Studio on 30 April. Musk also mentioned the home battery concept during an earnings call in February, when he said development was almost finished and would go into production "in about six months or so".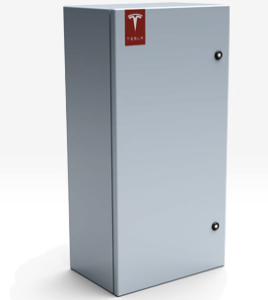 The CEO added: "We are trying to figure out what would be a cool stationary [battery] pack. Some will be like the Model S pack; something flat, five inches off the wall, wall mounted, with a beautiful cover, an integrated bi-directional inverter, and plug and play."
This is not new ground for Musk. He is chairman of Solarcity, a company which has partnered with Tesla to provide battery storage units for homes. Solarcity is only running a small pilot programme of 300 systems in the Bay Area of San Francisco for now, but once Tesla's enormous 'giga factory' is up and running later in the year, production could soon ramp up.
Designed to attach to the interior wall of a garage, the battery unit sold by Solarcity, complete with Tesla branding, can power an entire house if the utility grid goes offline, such as after an earthquake or other natural disaster. When fully charged, the battery can run a kitchen fridge, charge devices like smartphones, operate a home's lights, and provide power to security systems and alarms.
Solarcity currently asks visitors to its website to "check back again in mid-2015 for a new and improved offering," which ties in neatly with Musk's late April announcement.
How the home battery will interact with the company's Model S electric car remains to be seen.