Tesla and its charismatic chief executive Elon Musk will announce a "major new product line" on 30 April that, for the first time in the company's 12 year history, is not a car.
Given Musk's proven ability to turn science fiction into reality with fully electric cars, reusable space rockets, and plans for Hyperloop, an 800 miles per hour train, speculation about what his next product could be is rife.
A battery for the home
The most popular suggestion is a battery pack used to power the home, instead of relying on mains electricity and gas. On a conference call in February, Musk said his company will "unveil the Tesla home battery, the consumer battery that would be for use in people's houses or businesses fairly soon."
The CEO added: "We are trying to figure out what would be a cool stationary [battery] pack. Some will be like the Model S pack; something flat, five inches off the wall, wall mounted, with a beautiful cover, an integrated bi-directional inverter, and plug and play."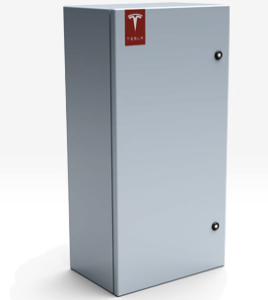 Musk followed this up with a comment to Bloomberg, stating Tesla "has the design done, and it should start going into production in about six months or so. It's really great."
This is not new ground for Musk. He is chairman of Solarcity, a company which has partnered with Tesla to provide battery storage units for homes. Solarcity is only running a small pilot programme of 300 systems in the Bay Area of San Francisco for now, but once Tesla's enormous 'giga factory' is up and running later in the year, production could soon ramp up.
Designed to attach to the interior wall of a garage, the battery unit sold by Solarcity, complete with Tesla branding, can power an entire house if the utility grid goes offline, such as after an earthquake or other natural disaster. When fully charged, the battery can run a kitchen fridge, charges devices like smartphones, operate a home's lights, and provide power to home security systems and alarms.
Solarcity currently asks visitors to its website to "check back again in mid-2015 for a new and improved offering," which ties in neatly with Musk's late April announcement.
A way of using the Model S as an emergency backup
Creating a battery to power an entire home may be optimistic - even for Elon Musk. An intermediary step could be to create an accessory which lets Model S drivers use their car to provide power for the very basics - such as security and light - in an emergency.
The system could resemble that offered by the Toyota Mirai, a hydrogen fuel cell-powered car which lets owners remove the battery and use it to power their house. Toyota claims the battery can power an average home for up to a week when fully charged.
Alternatively, Tesla could produce a similar system to Nissan's with its Leaf electric car. The Leaf can be used as a temporary generator to power a home in an emergency.
Electric bikes for congested cities
It is hard not to think of the box when trying to guess what Musk is up to next, so why not an electric bike? Ford revealed the MoDe bike at Mobile World Congress technology show in February. There are two models - one for consumers and a commercial version for couriers - and it can travel at up to 15 miles per hour.
It would be a huge departure from Tesla's current car business, but this is a company which isn't afraid of describing itself more as a battery producer than a car manufacturer, so an electric bike - or other electric vehicle, Musk only ruled out cars specifically - is perfectly plausible.
Given Musk said he would announce a new "product line" also suggests there will be more than one, which again fits in with the thought of a range of electric bikes aimed at consumers and couriers. On a grander scale, Tesla could even announce a platform for commercial vehicles like postal delivery vans. We will find out for sure on 30 April.