With less than 24 hours until Elon Musk finally reveals the Tesla Model 3, an insider claims to know some key facts about the new electric car. Leaked details include how fast the car can accelerate and what its range between charges will be.
Musk is to host a media event at Tesla's California design studio on 31 March (early hours of 1 April in the UK), and so far we are yet to see what the car will look like. All we know for sure is that is will be called the Model 3, it will cost around £30,000, and it will be a mass-market car to fit in below the Model S and Model X currently on sale.
But, according to an insider who "has provided reliable information in the past" speaking to Electrek, the car's design will borrow aspects from the Model S and X, be smaller than both, yet taller than a regular saloon car. It is "sexy and sporty...it seems so right", the source said.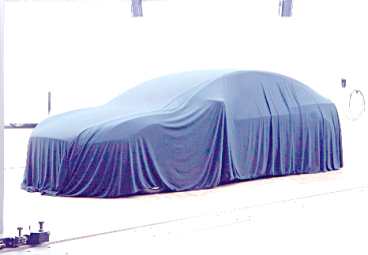 They also said the Model 3 can accelerate from zero to 60mph in under four seconds and will have a range of over 300 miles, matching and even exceeding that of some versions of the Model S and X. In fact, it is believed that this will be a real-world motorway figure, and not a range only achievable by driving slowly, as is the case with the estimated ranges of the current Model S lineup.
Unfortunately, the course didn't say if these stats are from a base version of the Model 3, or from a Performance or D model with more power and four-wheel-drive.
It is also claimed that a more expensive version of the Model 3, which could cost between £40,000 and £50,000, close to the entry-level Model S, will have the same autonomous driving features as its bigger siblings.
Finally, an image published on Wired's German website claims to show a Model 3 under a fabric cover in Tesla's design studio, where the car will be revealed on 31 March. Next to it is a larger car, also covered, which could be the rumoured Model Y, a vehicle which uses the same shorter platform and chassis as the Model 3, but is tall like the Model X.
All will be revealed in the coming hours.