Tesla is preparing to unveil a major new product line in the form a giant battery capable of powering homes and offices.
The electric car manufacturer is holding a media event at the company's headquarters in Hawthorne, California, to announce the cost-effective, heavy-duty batteries designed to address resource inefficiency.
Tesla believes that energy storage units can be used to make demand and supply fluctuations with domestic and industrial power irrelevant.
Tesla CEO Elon Musk took to Twitter on Wednesday to hint at the unveiling of its new product line, stating: "For the future to be good, we need electric transport, solar power and (of course)..."
According to reports in the Wall Street Journal, Tesla's new $5bn (£3.2bn) gigafactory will devote up to a quarter of its capacity to producing the home batteries.
During an Tesla earnings call in February, Musk said that production of the home battery was expected to begin in August 2015.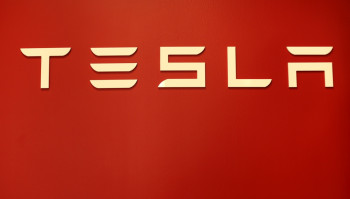 "We are trying to figure out what would be a cool stationary [battery] pack," Musk said. "Some will be like the Model S pack; something flat, five inches off the wall, wall mounted, with a beautiful cover, an integrated bi-directional inverter, and plug and play."
Home batteries have already been tested by Tesla in pilots on 300 homes through Musk's SolarCity, which stores energy harvested from solar panels on the roof in order to make houses self sufficient.
SolarCity's website describes the batteries tested in the pilot programme, claiming they can be used for up to a decade.
"Tesla's long history of research and development has enabled a cost-effective, wall-mounted storage appliance that is small, powerful and covered by a long lasting full 10 year warranty," the site states.
"The actual battery unit is about the size of a solar power inverter, and will be mounted on the wall in your garage or near your electrical panel."