A series of bomb blasts rocked Bangkok early on Tuesday morning. According to multiple reports, the blasts happened a 100 yards apart from each other, at 9.11 a.m. GMT, on Soi Sukhumvit 71, a street running off a busy multi-lane road that bisects the Thai capital. An initial AFP report, quoting Wichai Sungprapai, the Police Major General, suggested there were no deaths.
Later reports, such as the one filed by The Independent, spoke of a photograph on Twitter, showing an injured man lying on a pavement outside a school, with both his legs blown off. The follow-up reports indicated the injured man was an Iranian national and believed to be the man responsible for the blasts. The third of the three blasts, according to a BBC report, took place at the house of the injured man; one he had supposedly rented along with other unnamed Iranians.
The injured Iranian has been identified as a Saeib Morabi.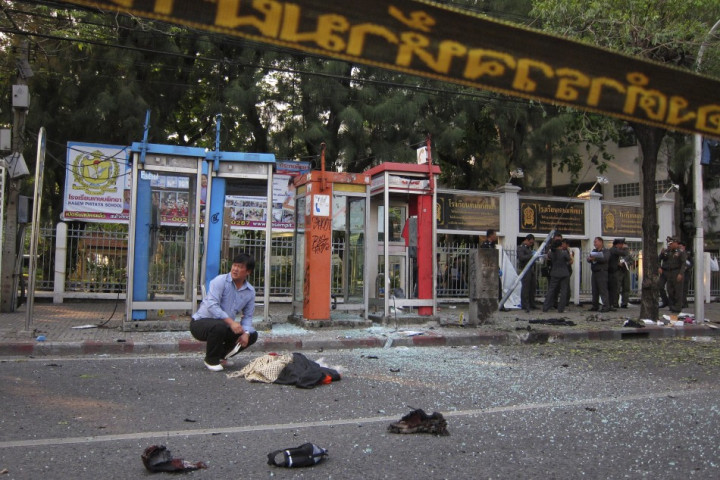 As yet, the actual timeline and causes for the blasts are unclear. However, in addition to official accounts, there have been eyewitness reports and photographs, such as the one posted by Facebook user Manik Sethisuwan, who wrote:
"This guy(s) accidentally explodes a bomb at his rental apartment (1st blast). In a panic runs out to the street to hail a cab who doesn't pick him up. So he bombs the cab (2nd blast). A police-officer comes running down to confront him, he throws another bomb towards the officer. It misses the officer's head, bounces off a tree and comes back to explode on his own lap!! (3rd blast) His legs are blown off, Boom!! (Damn!). We were 10-meters away."
"By dad's grace we're fine, he chose the table near the toilet. Survived bomb blast from 'Self-Suicidal' grenade tossing Iranian suspect. 10-meters from our desk. Lots of glass on pizza and spagetti. Severed human legs not far away. Thank God!" he added.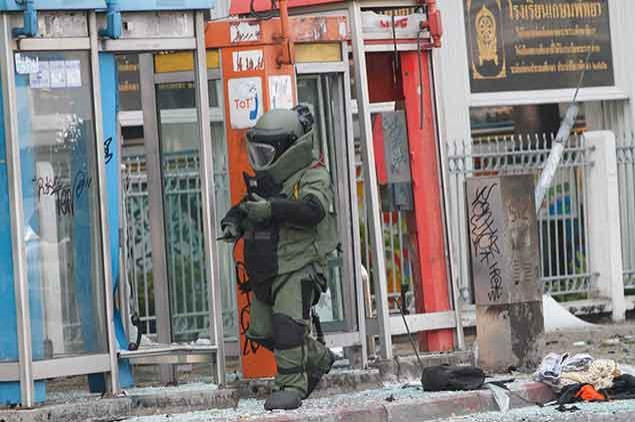 The investigations into the blasts are still ongoing. However, even at this early stage, there are conjectures about possible links between the Bangkok blasts and those in the capital cities of New Delhi (India) and Tbilisi (Georgia).
An NDTV India report said the attack in New Delhi (a car bomb) injured four people, including an Israeli diplomat' s wife. The report also said the bomb in Georgia (also a car bomb) had been safely defused.
A report on Israeli news agency Haaretz's Web site quoted the Indian Home Minister, P. Chidambaram, as saying the attack had been carried out by a "very well-trained person". However, the Minister did not explicitly name any country as being involved in the blasts and the Indian government has since confirmed that there can be no discussion on the matter until their investigations have been completed.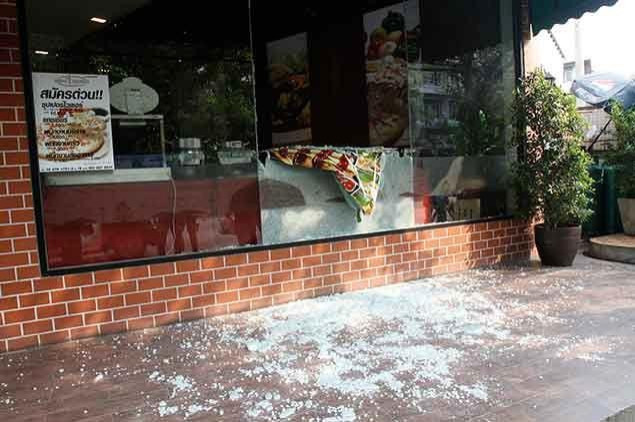 Nevertheless, Israeli Prime Minister Benjamin Netanyahu was quoted in the same report as accusing Iran of the attacks, which occurred one day after the fourth anniversary of the killing of a senior Hezbollah official, Imad Mughniyeh. In another Haaretz report, however, Iran has officially denied involvement in the blasts.
A Press Association report, speculating on possible motives, noted that last month, a foreign suspect with alleged links to Hezbollah militants led Thai police to a warehouse filled with more than 4,000kg of urea fertiliser and several gallons of liquid ammonium nitrate. At the time, the report continued, the U.S. Embassy issued an "emergency message" warning of a possible terror threat against Americans in Bangkok. Israel warned its citizens to be on alert as well.
Must Read:
Bangkok Blasts: Thai Officials Suggest Strong Link to India Attack