A series of bomb blasts across popular tourist areas in Thailand that have killed four and injured at least 20 others has prompted Facebook to activate its Safety Check feature to let individuals tell their friends and family that they are safe and well.
The tool, which was introduced by the social network back in 2014, automatically sends a notification to those in an area where a major incident has happened asking if they are safe. When users confirm "Yes, I am safe" an update is sent out to others about their status in times of disaster or terrorist attacks. It also lets friends and family to search for others to check their safety and also mark friends as safe. It was first used after the Nepal earthquake in 2015.
Two bombs hidden in potted plants went off at the resort area of Hua Hin in southern Thailand on 11 August killing one woman and injuring dozens more including tourists. Following this, two bombs detonated on the popular tourist destination of Patong Beach in Phuket. While there are no reported casualties a further three more bombs went off in separate areas of Trang, Surat Thani and Hua Hin once again, killing three more in total.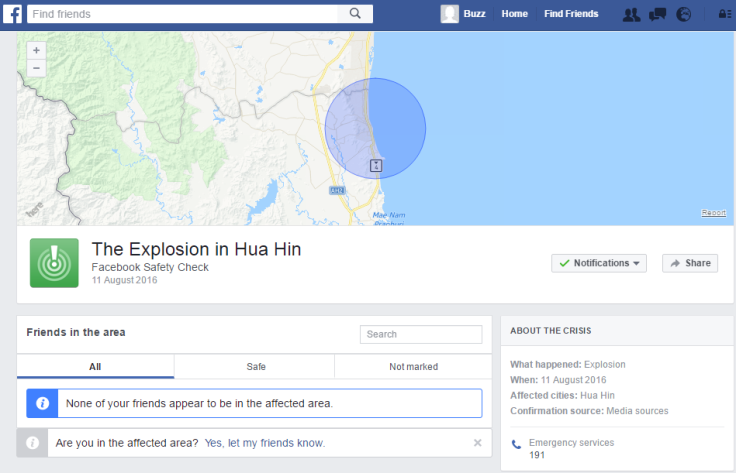 Being popular tourist hotspots many will be obviously concerned about the safety of any relatives or friends currently holidaying in the country. For those who are worried and want to check Facebook's Safety Check tool can be found at this link.