A species of bird has scuppered plans for 65 new wind turbines in the Thames Estuary.
Developers of the London Array - the largest windfarm in the world - wanted to extend it but had its wings clipped when it was told that a study to assess the effect of expansion on red-throated divers would take three years.
It had hoped to increase the number of turbines to 341 but the RSPB flagged up a warning about potential detrimental effect on the red-throat diver population in the estuary between Kent and Essex.
The area is the winter home of about 6,500 red-throated divers - at least one third of the UK's population.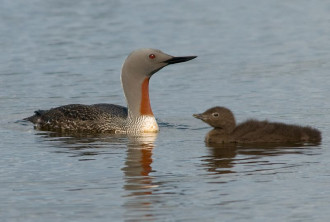 One of the conditions imposed on expansion in 2006 was that phase two would only progress if red-throat divers were protected.
London Array has asked the Crown Estate to terminate the agreement for a lease for the phase two area and pulled the plug on the remaining capacity reserved at the National Grid station in Graveney, Kent.
London Array general manager Mike O'Hare said phase two would not compromise the estuary's status as a designated environmental Special Protection Area but admitted: "[There is] no guarantee at the end of three years that we will be able to satisfy the authorities that any impact on the birds would be acceptable."