Theo Walcott reveals amazement at making first team return against Hull City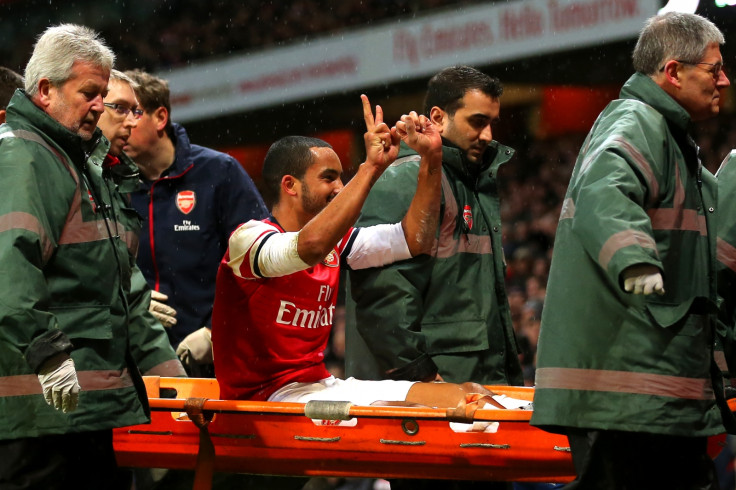 Theo Walcott is relieved after making his much anticipated start in the first team following a one-year lay-off after suffering a cruciate ligament injury against Tottenham Hotspur in the third round of the FA Cup last year.
Arsenal fans were pleased to see the duo of Walcott and Alexis Sanchez working together. Together with Danny Welbeck, they are arguably the fastest front three in the league.
Sanchez scored the winner in a 2-0 breeze for the Gunners over Hull City but Walcott showed that he has not lost his pace and it is only a matter of time before he is up to speed with the league.
Arsenal will be looking to forge a partnership between the three and Mesut Ozil, who is expected to return to action after a three-month lay-off with a knee injury he had picked up during the World Cup.
The Gunners have been extremely unlucky with injuries this season, with the likes of Aaron Ramsey, Jack Wilshere and Ozil all unavailable for an extended period of time. This has been portrayed in their league standings, where they find themselves in sixth spot, three points adrift of a top-four spot.
"It's amazing. It has been a year to the day, so to get my first start and blow cobwebs away, I was pleased,'' Walcott told BBC Sport.
"Mentally [is the toughest thing]. You have to see how you can cope with watching your teammates going out to train and you're only [the] one in the treatment room, but it gave me the opportunity to build on something," he added.
The Gunners host Stoke City at the Emirates next weekend in a bid to exact revenge for their 3-2 humiliation at the Britannia Stadium a month back. Ramsey and Mathieu Flamini are expected to be back for the clash while Olivier Giroud is also expected to make the starting XI after serving a three-game suspension.
© Copyright IBTimes 2023. All rights reserved.