Prime Minister Theresa May would be prepared to authorise a pre-emptive nuclear strike, the UK's defence secretary has confirmed.
Speaking on BBC Radio 4's Today Programme on Monday, (24 April), Michael Fallon said the prime minister would launch the weapons in exceptional cases. He also seized on Jeremy Corbyn's appearance on The Andrew Marr show on Sunday (23 April) in which the Labour leader said "all aspects" of defence would be up for review if he won the general election on 8 June.
Fallon said: "In the most extreme circumstances, we have made it very clear that you can't rule out the use of nuclear weapons as a first strike."
However, when pressed on under what circumstances the Conservative government would launch nuclear weapons, Fallon refused to answer, saying: "They are better not specified or described, which would only give comfort to our enemies and make the deterrent less credible."
He added: "The whole point about about the deterrent is you've got to leave uncertainty in the mind of anybody who might be thinking of using weapons against this country." Fallon went on to claim the UK "uses the deterrent every single day".
Presenter Nick Robinson offered a list of senior military figures who have said the Trident programme is completely useless. However, this was rejected by Britain's defence secretary, who has never served in the armed forces.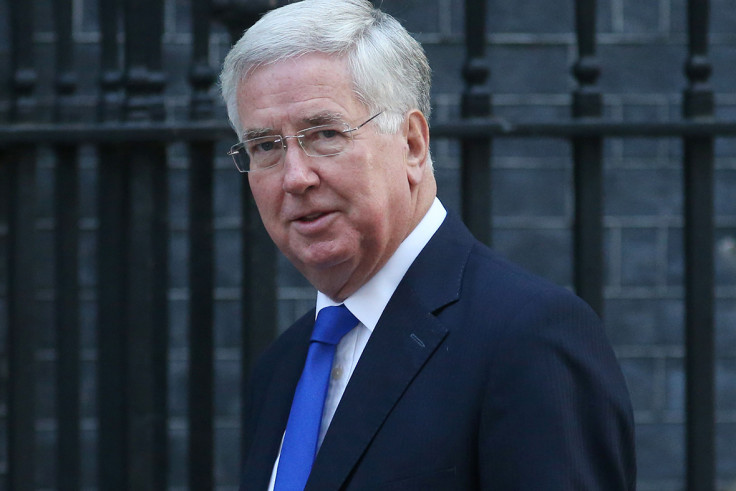 Critics accused Fallon of being "irresponsible" for discussing pre-emptive tactics. Andrew Smith of Campaign Against Arms Trade told IBTimes UK: "For far too long, UK foreign policy has been guided by a commitment to militarism and interventionism, with Trident at the heart of it. The results have been catastrophic.
"Trident is a moral abomination. It is dangerous and irresponsible for government ministers to be openly talking about carrying out pre-emptive strikes, which would kill indiscriminately and on an even greater scale than the bombing of Hiroshima.
"There's been a lot of talk about post-Brexit UK's role in the world, but are we really to believe that the possession of arms that could wipe out millions of lives is a prerequisite for global influence?
"If we are to work towards a nuclear free world then we won't get there by politicians talking about nuclear war and providing an excuse and a blank cheque for every other country that seeks nuclear proliferation."
Fallon also accused Labour of being in "chaos" after the Opposition leader – a lifelong opponent of nuclear weapons – refused to confirm whether the commitment to maintain Trident would be in the election manifesto.
"We are having that discussion within the Labour Party and we will publish our manifesto in May," said Corbyn. "We will have a strategic defence review immediately which will include all aspects of defence. We would then look at the situation at that time."
He added: "I have made clear there would be no first use of it and that any use of nuclear weapons would be a disaster for the world."
Despite Corbyn's comments, Labour's general election chief, Andrew Gwynne confirmed that renewing Trident will not be part of the defence review if the party wins the election. "We are committed to renewing the Trident system," said Gwynne.
Speaking to the Today Programme, he added: "The Labour Party is very clear we are committed to a credible nuclear credibility at the minimum end of the scale. That is Labour Party policy and it will be in the manifesto."
In July 2016, the UK's Parliament voted in favour of renewing Trident by a majority of 355. The motion was supported by nearly all Conservative MPs and more than half of Labour lawmakers.
The Ministry of Defence (MoD) puts the cost of the four Trident submarines at an estimated £31bn ($39.7bn).
Speaking during a Commons debate on the renewal of the nuclear programme last year, May said she is personally prepared to give the green light to a nuclear strike that would kill 100,000 innocent men, women and children to cries of disbelief.