Theresa May has ruled out invoking Article 50 of the Lisbon Treaty before the end of 2016. Speaking alongside German Chancellor Angela Merkel in Berlin, May said Britain will not embark on divorce proceedings from the European Union (EU) "until our objectives are clear".
The Conservative leader was in the German capital for her first talks since succeeding David Cameron as prime minister. Both leaders focused on the "close bonds of partnership and friendship" between the two nations following the UK's decision to leave the EU in a referendum on 23 June.
The meeting between the two leaders is significant in terms of shaping the tone for lengthy Brexit negotiations between Britain and the EU.
The prime minister was given a full ceremonial welcome on her arrival and insisted that Britain would not "walk away from our European friends" at the joint press conference. "Of course as we continue to work together we must also negotiate the UK's successful exit from the European Union. This will take time and it will require serious and detailed work."
May said that she wanted to work with her German counterpart and European colleagues in "a constructive spirit to make this a sensible and orderly departure". She added: "All of us will need time to prepare for these negotiations and the United Kingdom will not invoke Article 50 until our objectives are clear.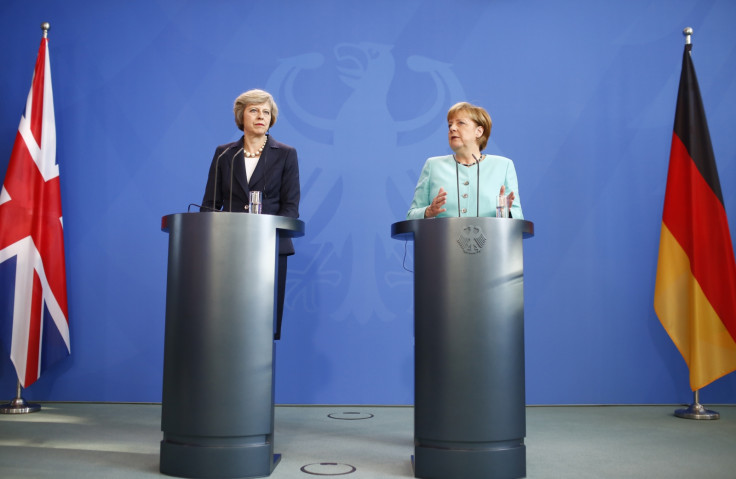 "This will not happen before the end of this year," May continued. The prime minister said a balance needed to be struck between respecting the wishes of British voters and the interest of its European partners, but Merkel said Britain's withdrawal from the EU should take place within a "certain timeline".
"Britain does not want an impasse, Germany does not want an impasse and the EU does not want an impasse," said Merkel. Prior to May's foreign visit, Number 10 said it would relinquish Britain's rotating six-month presidency of the EU in the second half of 2017 to prioritise negotiations to depart from the bloc.
May and Merkel are scheduled to hold a working dinner tonight (20 July) before the British leader sets off for Paris for a round of talks with French President Francois Hollande.