Nicola Sturgeon and her SNP government should stop treating Scottish politics like a "game", Theresa May declared on Friday (3 March).
The UK prime minister launched the attack against the first minister of Scotland as she addressed the Scottish Conservative conference in Glasgow.
"Politics is not a game and the management of devolved public services in Scotland is too important to be neglected," May said.
"People in Scotland deserve a First Minister who is focused on their priorities – raising standards in education, taking care of the health service, reforming criminal justice, helping the economy prosper, improving people's lives."
The Conservative leader also stressed that it is a personal priority of hers to "strengthen and sustain the bonds that unite us".
"I am confident about the future of our United Kingdom and optimistic about what we can achieve together as a country," May said.
The pro-union speech comes after Sturgeon warned a second Scottish independence referendum is made "more likely" by May's "hard Brexit" plan, with Scotland voting to stay in the EU by 62% to 38% last June.
"It is hugely ironic for Theresa May to accuse others of treating politics like a game – this is a prime minister who treats EU nationals as bargaining chips, and who gambles the future of UK industry, pitting companies against each other as we move closer towards a hard Tory Brexit cliff edge," said Angus Robertson, the SNP's leader at Westminster.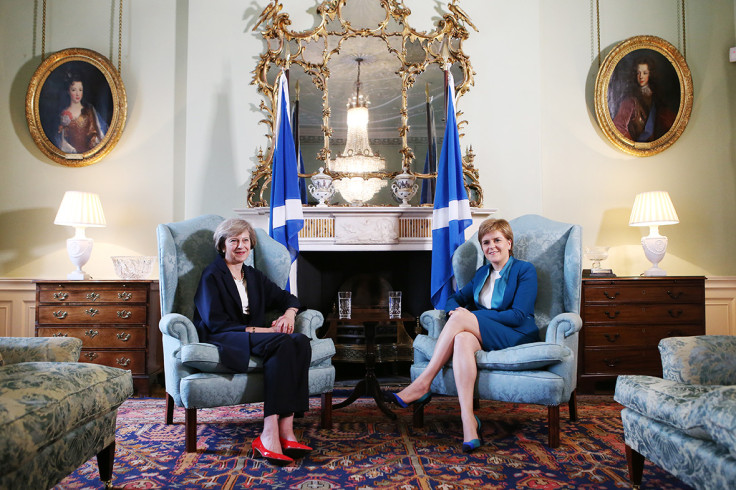 He added: "While the SNP Government has taken strong action to support businesses through business rate revaluations – Theresa May has done almost nothing for business in England.
"We will always work to improve our public services – but absurdly ill-informed comments like this do the prime minister no favours."
The latest online opinion poll from Panelbase, of more than 1,000 Scottish voters between 7 and 13 February, found 44% of respondents would back splitting from the rest of the UK, around the same result as the 2014 referendum, but not enough to force a split from the United Kingdom.