Theresa May will block IndyRef2 telling Robert Peston 'now is not the time'
UK prime minister said "all our energies" should be focused on Brexit negotiations rejecting SNP plans.
Theresa May has roundly rejected Nicola Sturgeon's call for a fresh Scottish independence referendum in the near future. In an interview with ITV's Robert Peston, she repeatedly said: "Now is not the time".
Earlier this week the First Minister announced her intention to hold another plebiscite in late 2018 or early 2019, giving Scots a fresh chance to secede from the UK.
But May said it would not be right for the Scots to decide the issue while the United Kingdom was still renegotiating its own relationship with the EU-27. She warned Scottish MPs that she could veto any attempt to to hold another referendum.
It is less than three years since 55% of Scots voted "no" to breaking away from the UK. However, 62% of Scots voted to stay in the EU in last year's referendum.
Sturgeon's SNP feel the case for a new vote has been rejuvenated by the disparity between Scottish and English attitudes towards Europe.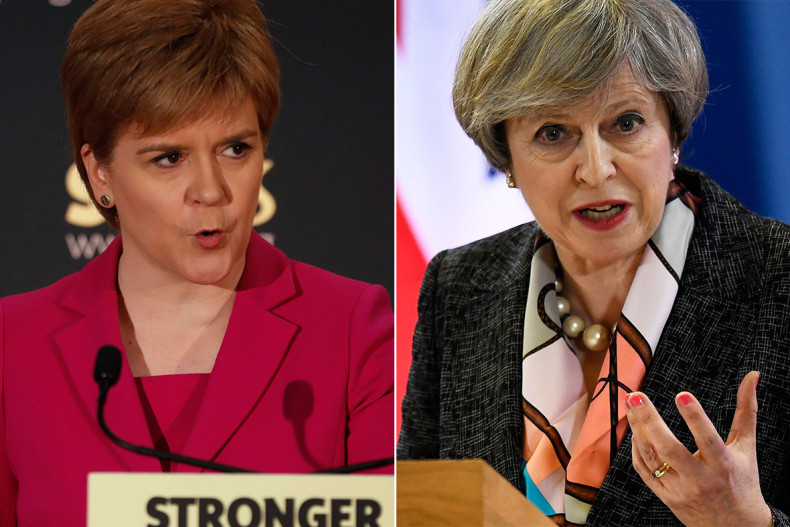 But May used the interview to make a definitive rejection of those plans. She said: "Just at this point, all our energies should be focused on our negotiations with the European Union about our future relationship.
"To be talking about an independence referendum will make it more difficult for us to be able to get the right deal for Scotland, and the right deal for the UK.
"And more than that, I think it wouldn't be fair to the people of Scotland because they're being asked to make a crucial decision without all the necessary information – without knowing what the future partnership would be, or what the alternative of an independent Scotland would look like."
Peston took to Facebook after the interview and offered his analysis of the prime minister's move. He said: "The prime minister's no risks serious constitutional crisis. Because if Scotland goes ahead with the referendum in the absence of a Westminster sanction, it would have the force of popular opinion behind it but not the force of law."