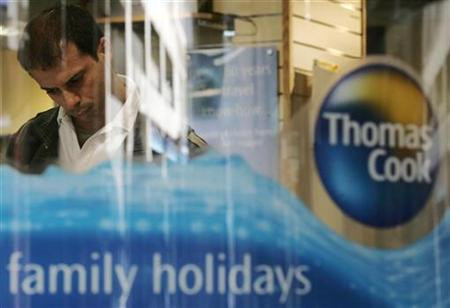 Shares in Thomas Cook were down in morning trading on the FTSE 250 after the travel company said it lost a higher than expected £81.9 million as a result of airspace disruption brought on by the volcanic ash cloud earlier this year.
The group said that the original estimate for the financial impact of the volcano was £60 million to £80 million.
Thomas Cook said that excluding the effects of the volcano, its underlying third quarter profits were up 10 per cent. Including the effects of the volcano Q3 revenue was down nine per cent while underlying profit from operations dropped by 50 per cent to £25.8 million.
Manny Fontenla-Novoa, CEO of Thomas Cook, said, "Third quarter profits were up 10% on the comparable period, if we exclude the lost margin impact from the Icelandic volcanic ash disruption, and operating cash flow performance continues to be excellent, with a £157m nine month cumulative inflow, up £195m on the prior year.
"We always expected this year to be challenging given the uncertain economic environment and the impact of the weak sterling on our UK business. In anticipation, we cut winter capacity, chose not to increase overall summer capacity, and have continued to address our cost base. These actions and our flexible business model have demonstrated our resilience in weathering the tough trading environment.
"As we enter the final quarter, it is apparent that trading in the UK business is softer than expected and, at current rates, the recent weakening of the euro will have an adverse impact on translation of our euro-based earnings. As a result, we now anticipate underlying operating profits for the full year (excluding the impact of the volcanic ash cloud) to be at the lower end of market expectations."
By 10:00 shares in Thomas Cook fell 0.87 per cent on the FTSE 250 to 182.30 pence per share.