The Islamic State (Isis) stronghold of Manbij in northern Syria has been liberated by an alliance of Kurdish and Arab militia, after more than two years in the grip of the Islamist terror group.
More than 2,000 residents of the city have also been set free, and are celebrating their newfound freedom by burning their burqas and shaving off their beards.
An US-backed coalition of fighters engaged in 73 days of intense fighting in order to drive IS (Daesh) out of the town, which is situated close to the border with Turkey. A spokesperson for the Syrian Democratic Forces (SDF) said that IS militants had finally fled the city on Friday, leaving behind 2,000 hostages who had been used as "human shields".
Sharfan Darwish, a representative of the Manbij military council, an ally of the SDF, told Reuters: "The city is now fully under our control but we are undertaking sweeping operations."
Manwhile, Pentagon spokesman Gordon Trowbridge said: "Although fighting in Manbij continues, Isil [IS] is clearly on the ropes. It has lost the centre of Manbij, it has lost control of Manbij."
Male and female fighters made up the liberating force, and pictures are now emerging from the city of jubilant residents casting off some of the stricter dress codes imposed by IS. Men are not allowed to be clean-shaven in IS territory, while the smoking of cigarettes is also banned, and prayers are enforced five times a day.
The hostages were only taken recently, when the remaining IS forces in the city made their bid to quit a northern neighbourhood, forcing them into stolen cars to form human shields as they withdrew towards the town of Jarabulus on the Turkish border.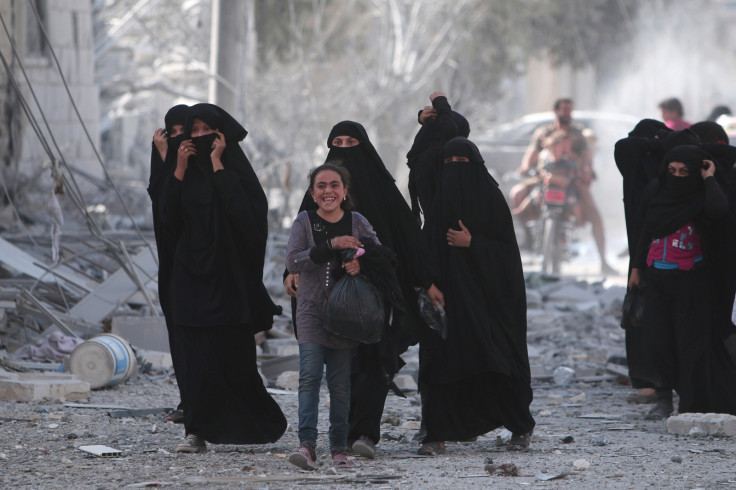 "While withdrawing from a district of Manbij, Daesh [Isis] jihadis abducted around 2,000 civilians from al-Sirb neighbourhood," said Darwish. "They used these civilians as human shields as they withdrew to Jarabulus, thus preventing us from targeting them."
Manbij used to be home to tens of thousands of people, but most of these left before the SDF began its assault on 31 May. The city was significant as it made up part of IS's supply route between the Turkish border and the organisation's "capital" in occupied Raqqa.
The battle is understood to have claimed the lives of at least 437 civilians, 299 SDF fighters, and 1,019 IS fighters, according to the British-based Syrian Observatory for Human Rights.