Tens of thousands of anti-government demonstrators gathered in Thailand's capital Bangkok on Sunday as pressure continued to intensify on Prime Minister Yingluck Shinawatra to step down.
Scores of protesters chanted anti-government slogans and blew whistles at various locations around the city, bringing traffic to a standstill at three of Bangkok's main intersections and in two commercial districts.
The demonstration is the latest in a series of protests calling for government reforms to weaken the influence of the powerful Shinawatra family.
Hundreds of demonstrators surrounded Yingluck's house demanding she step down, while protest leader Suthep Thaugsuban called for a suspension of government and the appointment of a "people's council".
"I don't know what Yingluck is thinking," Thaugsuban told anti-government television station Blue Sky.
"But what I know for sure now is that all civil servants, the army [and] the police have realised all Thai people are rising up against the government."
Earlier this month, Yingluck scheduled a snap poll for February 2 in an effort to calm the unrest.
"The government realises that the country needs to be reformed," Yingluck said in a televised address. "However, the reforms should run in line with democratic principles."
The main opposition Democratic Party, however, announced that it would boycott the election. Party leader Abhisit Vejjajiva said it would not be fielding any candidates because Thai politics is at a "failed stage".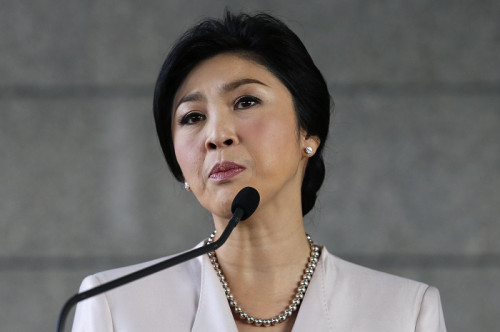 "The Thai people have lost their faith in the democratic system," he told reporters at a news conference on Saturday. However, the Election Commission ruled out postponing the election.
Yingluck is currently in the northeast of the country, where her ruling Pheu Thai party enjoys strong support. Yingluck, who is a caretaker premier, has refused to step down, arguing that the constitution does not allow for her resignation.
Yingluck's premiership is a continuation of the powerful Shinawatra dynasty's grip on power in Thailand. The family has won every election since 2001 and critics accuse Yingluck of perpetuating the influence of her brother former premier Thaksin Shinawatra, who is in self-imposed exile in Dubai.
Thaksin's state subsidies, cheap healthcare and favourable loans won him support among the working classes, particularly in rural areas, while the urban middle and political classes view him as an autocratic patron of his wealthy business friends and family.
The anti-government protests were sparked in November when Pheu Thai attempted to push through an amnesty bill that would have rescinded Thaksin's conviction for corruption.