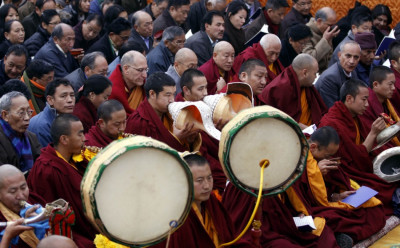 Celebrations for Tibetan New Year have been kept low-key in the wake of at least 16 pro-independence demonstrators burning themselves to death in protest at Chinese rule.
The Tibetan New Year, or Losar, is usually a colourful celebration of music, chants and costumes but this year the darker mood will translate into a more sober atmosphere.
Ahead of Losar, Lobsang Sangay, the prime minister-in-exile in Dharamsala, India, issued a statement calling on Tibetans to refrain from celebrating.
"Observe traditional and spiritual rituals by going to the monastery, making offerings and lighting butter lamps for all those who have sacrificed and suffered under the repressive policies of Chinese government," he said.
At least 16 Tibetans have died in self-immolation protests against Chinese rule and repression since March 2011.
Reports have suggested that heavy security has been put in place in northwest China where people started to gather around temples to pray.