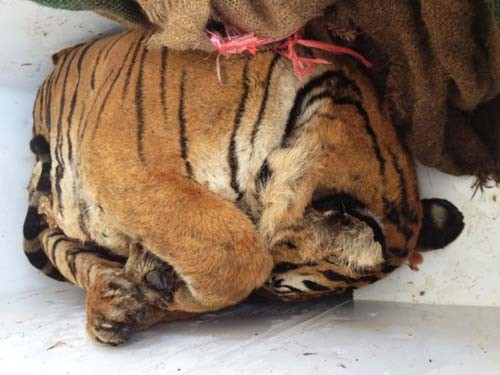 Shooting suspected poachers will no longer constitute a crime in the Indian state of Maharashtra according to a new government's ruling.
In a dramatic move to control rampant attacks against tigers, elephants and other wildlife, the government has sanctioned 70 forest guards for Tadoba tiger reserve and 90 guards for Pench to shoot hunters on sight. They will be fully armed.
"There have been instances when the guards have been booked for human rights violations when they have taken action against the poachers. The government did not want this to happen," Maharashtra Forest Minister Patangrao Kadam said.
Two tigers were recently caught in a steel trap and died. "A CID inquiry has been instituted to find out whether they died because of poaching or were electrocuted," he said.
The government has also appointed a four-member committee of experts to advise the government on steps to be taken for precautions against poaching.
The move could act as a deterrent to wildlife criminals, according to conservationists. ""These poachers have lost all fear. They just go in and poach what they want because they know the risks are low," Divyabhanusinh Chavda, who heads the World Wildlife Fund in India told AP.
According to the Wildlife Protection Society of India, 14 tigers have been killed by poachers in India so far this year - one more than in all of 2011.
In Maharashtra alone, eight tigers have been killed in 2012. One tiger was found last week chopped into pieces with its head and paws missing in Tadoba Tiger Reserve.
A recent study showed that 114 species of mammals were being hunted across the country.
Last month, an anti-poaching operation in South Africa resulting in the deaths of a policeman and a ranger made the headlines all over the world.
The policeman and a soldier were searching for suspected rhino poachers in the park when the police officer was shot dead by a game ranger.
One theory is that the ranger could not confirm the identity of the officer because he could not see them clearly and his walkie-takie was not working. He shot the officer because he believed he was a poacher. Another theory is that the ranger was working with the poachers.