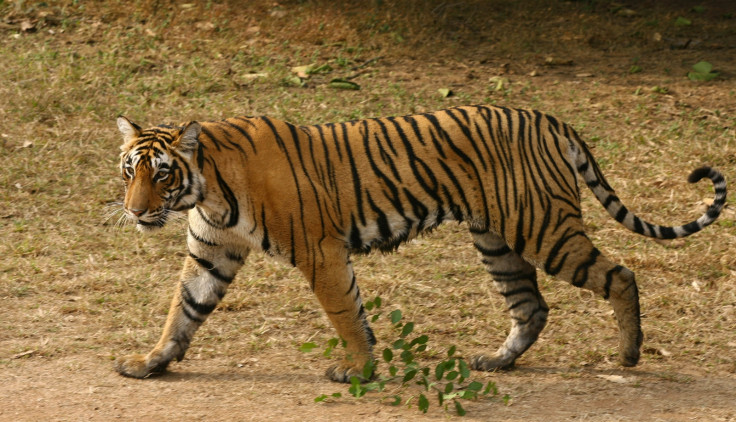 Tiger numbers in India have increased marginally and are stabilising in most of the protected habitats, according to top government sources.
The numbers for the big cat hover around 1,720 and 1,800 as compared to 1,706 four years ago.
The sources were quoting from a year-long tiger census which will go into the tiger estimation report to be made public on January 20, reports Hindustan Times.
"The decreasing trend has either reversed or stopped. There has not been a fall in tiger numbers in any landscape and most have witnessed some increase. Many tiger reserves show a stable population near to its optimal capacity, some are moving in that direction and only a few have shown a slight dip," the official said, describing Pilibhit in Uttar Pradesh and Bor in Maharashtra as habitats with some concern.
However, indications are that there is a decline in tiger population outside the 47 protected areas.
Half the reported deaths of 274 tigers in the last four years have been from areas outside tiger reserves and more than 70% of the total deaths are due to poaching or reasons unidentified.
A run through the official website of the National Tiger Conservation Authority shows the country lost 66 of its tigers in 2014 and two in 2015 so far.
In more than 90% of the cases, reasons are to be ascertained.
The highest number of 15 tiger deaths was reported from the forests of Tamil Nadu, followed by Madhya Pradesh at 14. The number of tiger deaths in Karnataka was seven.
In 2006, tiger numbers dipped to an alarming 1,411 from over 3,000 in early 2000, prompting the government to form a Tiger Task Force and tighten protection measures.
While habitat loss is a primary reason for tigers dying out – 93% of their forest territories have been destroyed – poaching is the other major reason for tiger populations falling from approximately 100,000 in the early parts of last century to the dismal thousands at present.
Found primarily in India with smaller populations in Bangladesh, Nepal, Bhutan, China and Myanmar, there are believed to be less than 3000 Asian tigers left in the wild though unofficial estimates place this at 1600.