Tiger Woods has called on Rory McIlroy to reclaim the World No.1 ranking this week by winning at the Houston Open.
Woods climbed to the top of the rankings for the first time since 2010 after his third victory of 2013 at the Arnold Palmer Invitational, which McIlroy opted to skip after a start to the year which has included a missed cut in Abu Dhabi and a withdrawal at the Honda Classic.
But the 23 year old can return to the rankings summit should he win this week's Houston Open, and as preparations for The Masters continue apace, Woods contacted McIlroy in hope of inspiring the Northern Irishman to a return to form.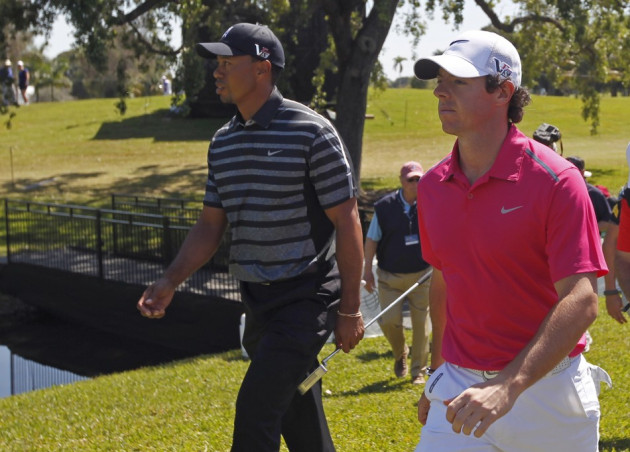 "Take your finger out of you're a** and win this week," Woods messaged McIlroy.
The American 14-time major winner is now favourite to claim his first major for five years next month at Augusta, but McIlroy, the reigning USPGA champion, is delighted to be sharing the pressure.
"I don't think I could go into the Masters under the radar," McIlroy said. "But I can go in a little bit underneath him so, in a way, it's not a bad thing.
"At the minute, with me trying to get my game back to where I think it can be, it's nice to go about my business, and I guess, not be the most talked about person in golf."
"I texted him [Woods] this morning and said 'well done'," McIlroy added. "I just congratulated him on winning at Bay Hill and with all the Lindsey Vonn stuff as well - and he said everything was good there.
"He gives me a lot of grief and I try to give him some back.
"Tiger has been 'The Man' in golf for the last 15 years and it's great for golf to have him up there," he said.
"Hopefully I can just try to keep up with him. He's playing really, really well and putting really, really well. I think his consistency is definitely back.
"When he was going through the first part of his swing changes with Sean [Foley, his coach], some weeks he had it, some he didn't.
"Now it seems like most weeks he's hitting the ball very solidly and anyone who's going to beat him is going to have to play very, very well."
Having finished 2012 top of the European and PGA Tour money list, becoming the youngest player since Seve Ballesteros to win two major championships, and playing a part in Europe's Ryder Cup victory, McIlroy has endured a torrid 2013.
After missing the cut at the Abu Dhabi Golf Championship, he sparked outrage when he withdrew mid-way through his second round at the Honda Classic, later apologising for his actions.
The event in Houston might represent the first opportunity for McIlroy for reclaim his world No.1 ranking he had held since last August before Woods' win at Bay Hill, but his form suggests the tournament might work as an opportunity correct the stroke defects which has blighted his season thus far ahead of the first major of the season.