Tim Howard provided one of the performances of the 2014 World Cup so far last night, as he heroically kept USA in their game against Belgium before succumbing to a 2-1 defeat in extra time.
The Everton keeper's 15 saves are the most ever recorded by a single keeper in a World Cup game since records began in 1966. Thousands in the US and around the world were on tenterhooks during the thrilling last 16 clash and congratulated Team USA on an admirable, gutsy exit from the tournament.
All the praise belongs to Howard, however, who prevented what would have been a comfortable Belgian win with a once-in-a-lifetime performance which kept the teams level for 93 minutes.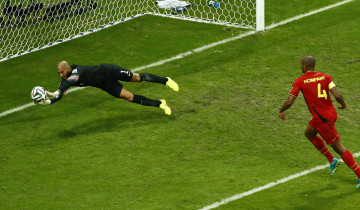 Perhaps confirming that the United States is finally ready to fully embrace the world of football, proud fans have started two online government petitions. One petition requests the renaming of the Ronald Regan Washington National Airport to Tim Howard National Airport while the second wants the keeper appointed Secretary of Defence.
The first petition reads: "Whereas Tim Howard has shown himself to be a national treasure, Minister of Defense, friend of Joe Biden, and the holder for the record of most saves in a World Cup match; therefore, we politely request that we rename the airport to recognise his accomplishments, and meritorious service to the United States of America."
The second reads: "We, the undersigned, hereby petition for the appointment of Timothy Matthew "Tim" Howard, Goalkeeper and MVP of the USMNT, king of the Andals, the Rhoynar and the First Men, to the office of U.S. Secretary of Defence for acts of valor and general badassery during the 2014 World Cup."
At the time of writing the petitions sit at 1802 and 88 signatures respectively. If they secure 100,000 signatures by 31 July, they will be officially recognised and reviewed by the White House.