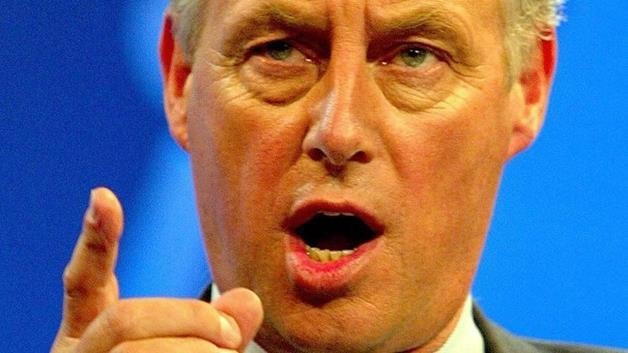 The former environment minister Tim Yeo is the latest MP to be caught up in the parliamentary lobbying scandal after he was filmed by undercover reporters apparently offering to trade his influence for cash.
Yeo, who is chairman of the energy and climate change committee, revealed he had coached a paying client on how to influence the committee.
The Tory MP described how he had advised John Smith, the managing director of GB Railfreight, on how Smith should give evidence at his appearance before the committe last month.
Yeo, who is a paid director and shareholder of GB Railfreight's parent company Eurotunnel, failed to inform his fellow MPs that he had coached Smith.
"I was able to tell him in advance what he should say," Yeo told journalists posing as representatives of a green energy company that was seeking to hire him.
Yeo has earned about £530,000 from private firms since taking over the committee in 2010, and has shares and options worth about £585,000 in low-carbon companies that have employed him.
He told reporters from the Sunday Times that he was close to "really all the key players in the UK in government" and could introduce them to "almost everyone you needed to get hold of in this country".
He declined to speak on their behalf in the Commons, saying: "People will say he's saying this because of his commercial interest".
But he assured them: "What I say to people in private is another matter altogether."
In public, Yeo has insisted that his views as an MP have "never been influenced at any time or in any way by my financial interests".
The reporters approached Yeo posing as representatives of a solar energy company offering to hire him as a paid advocate to push for new laws to boost its business for a fee of £7,000 a day.
He told them he could commit to at least one day a month, despite already holding four private jobs and being in negotiations for another two.
Setting out his stall, Yeo said: "If you want to meet the right people, I can facilitate all those introductions and I can use the knowledge I get from what is quite an active network of connections."
Asked if that extended to government figures, Yeo replied: "Yes."
The House of Commons code of conduct forbids members from acting as paid advocates or lobbying ministers.
Yeo said he could provide guidance on submitting evidence to his committee, which he said was "a good way of getting your stuff on the map".
Lord Mackenzie of Framwellgate and Lord Cunningham have both been suspended by the Labour party after being caught offering to table parliamentary questions, lobby ministers and arrange events in the Lords for paying clients.
Lord Laird has resigned from the Ulster Unionist party after being implicated in similar claims. All three deny wrongdoing.
Patrick Mercer resigned the Tory whip after being caught up in a separate investigation into parliamentary questions for cash.
Last night a fourth peer, Lord O'Neill of Clackmannan, referred himself to the parliamentary commissioner for standards after becoming embroiled in similar allegations.
The morning after meeting Yeo on 21 May, the reporters emailed to withdraw their offer. Six hours later, Yeo replied, saying he was glad not to be offered the work as "it spares me some embarrassment."
He wrote: "It was increasingly apparent to me during our talk that what you were seeking was someone to advance your interests by lobbying.
"This is a function which is not compatible with my position as an MP and chair of a select committee. I was going to email you later today to explain this but your email has removed the need for me to do so."
Yeo last night denied "absolutely" that he had breached the MPs' code of conduct, or offered to do so.
He denied having committed to working one day a month for the fictitious company, saying said the meeting had only been a "preliminary discussion".
Yeo denied offering to provide parliamentary advice or advocacy, which would be in breach of the code, and denied tutoring Smith on what to tell the select committee.
Yeo said he decided to withdraw from discussions before receiving their email, saying their offer concerned "an impermissible lobbying role".
A spokesman for GB Railfreight said the company had "made the same arguments that we consistently make in submissions, articles and on the record time and again" at the energy and climate change committee's session.
In a statement on Saturday, Yeo denied he had breached the MPs' Code of Conduct, and said: "I intend to contest these allegations very vigorously indeed."