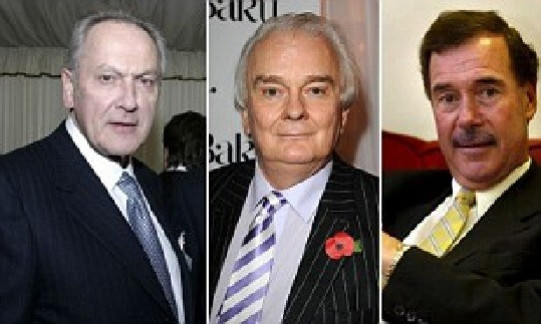 The "cash-for-questions" lobbying scandal has spread to the House of Lords only days after ending the career of Tory MP Patrick Mercer.
Investigations by two national newspapers and the BBC have led to more damaging revelations of a lobbying racket operating in parliament.
Lord Cunningham, Lord Laird and Lord Mackenzie of Framwellgate are accused of taking money to ask parliamentary questions, lobby ministers and host events on the House of Lords terrace.
Lord Laird has resigned the Ulster Unionist party whip in the wake of the allegations, his party confirmed on Saturday 1 June.
Lord Cunningham and Lord Mackenzie were suspended from the Labour party on Saturday pending investigations into the claims, a spokesman for the party said.
All three peers were filmed expressing their readiness to flout parliamentary rules which prevent them abusing their positions to influence government policy.
Cunningham, a privy counsellor who led the committee on Lords reform under Tony Blair, asked for £144,000 a year to provide a personal lobbying service.
Laird and Mackenzie revealed peers were colluding to conceal their conflicts of interest from the public through a secret job-swapping scam in which they pooled their clients to pull strings on each other's behalf.
The peers offered to act as paid advocates for a firm pressing for new laws to benefit its business. They also promised to set up an all-party parliamentary group as a lobbying vehicle.
Cunningham was caught in a newspaper sting in which reporters posed as lobbyists for a fictitious South Korean solar energy company.
"Are you suggesting £10,000 a month?" he told the Sunday Times decoy. "Make that £12,000 a month. I think we could do a deal on that."
He offered to advise them on parliamentary affairs and act as their advocate at Westminster.
Saying he provided "value for money", he offered to introduce them to senior figures in all three parties.
"Knocking on doors, introductions and getting to see people, including if necessary the ministers - this is part of the package," said Cunningham.
He promised to ask questions in the Lords, boasting he could "get other people to ask questions as well".
Cunningham, formerly Labour's Cabinet Office minister, also offered to write directly to the prime minister to push the company's agenda.
He even said he could host receptions on the House of Lords terrace for the client, enabling the fictitious businessmen to "mingle" with politicians.
Mackenzie, a former chief superintendent for Durham police who was Blair's law and order adviser, spelt out in detail a ruse he had devised which allowed him to host events for his clients on the House of Lords' terrace, for a fee.
The rules governing peers were tightened in 2009, extending a ban on members taking money to influence parliament or host functions in the Lords. The law also makes it against the rules to "seek to profit from membership of the House" by offering "parliamentary advice or services" of any kind, even if interests are declared. All three lords assured the lobbyists that they would declere the interests.
"There is a rule that you shouldn't host a reception in parliament where you have a pecuniary interest," Mackenzie acknowledged.
"I thought that's bloody nonsense. Nonetheless, how would you get round that?
"I just say to a colleague who has nothing to do with it, would you host a function for me? Of course, I do the business anyway, but that gets round it."
Laird, who became the youngest member of the Northern Ireland parliament in 1970, told the "lobbyists" - journalists working for the BBC and Sunday Telegraph - that he swapped parliamentary questions for paying clients with other peers.
"Some of the guys for instance in the Lords ... I will get to put down questions for me ... and then I put down questions for them," he said.
He laid bare several ways he could help influence the drafting of laws. "Look, we can run debates, we can take part in debates ... put down amendments in debates, holding debates, putting down questions, or writing to the minister," said Laird.
He said the prestige of the Lords had a powerful effect on clients, causing them to "go into state of euphoria" which would "soften them up".
All three peers offered to recruit enough MPs and peers to set up an all-party parliamentary group on solar energy as an unofficial pressure group for the deal.
Mackenzie said he was "more than happy" to chair the group, saying it would be a "powerful advocate" for the South Korean company's products.
He said his role could include writing to ministers and hosting functions. "That happens all the time," he stated.
The peers would be able to profit from a legal grey area, so long as they declared any payments in the register, or when writing to ministers.
Peers are allowed to speak out on topics they believe in, even if they have a financial interest. But they cannot do so if they are being paid to push a client's agenda.
Cunningham maintained: "I stick to the rules."
Shortly after the journalists emailed to withdraw their offer, Cunningham attempted to backtrack on the deal he had struck.
"I have considered your proposal and have decided to decline it," he wrote. "I do not want any further contact with your organisation."
The same day he contacted his party whips to alert them about the sting.
The whips then emailed peers to warn of the approach from a lobbyists company "that we can find little trace of internationally".
"We are concerned that this may be linked to a prominent national newspaper," the whips wrote.
Laird, meanwhile, tried to claim he had known all along he was being set up, and had agreed to meet only to gather evidence and "have a free lunch".
Cunningham maintained he was aware the bogus lobbyists were undercover reporters, and had asked for £12,000 a month as a way of "testing their credibility".
MPs from both main parties were drawn in to the scandal, and were forced to admit they had joined an all-party parliamentary group on Fiji after being invited by Mercer.
Mercer took £4,000 to press for sanctions on the country, imposed following its human rights violations, to be dropped.
Among the MPs Mercer was able to "recruit" were Keith Vaz, the Labour chairman of the home affairs select committee; his sister Valerie, also a Labour MP; Julian Brazier, a Conservative; Mark Field, a Conservative; and Fabian Hamilton, a Labour MP who is said to have offered to be the group's vice-chairman.
Mercer resigned the Conservative whip after he was captured on film boasting that he had persuaded 18 MPs to join the parliamentary group.
He said they included "several freeloaders that would like to go to Fiji", and one who asked to take his wife. The BBC's Panorama programme will be broadcast on Thursday.
Mercer has said he plans to continue as an Independent MP until the next general election.