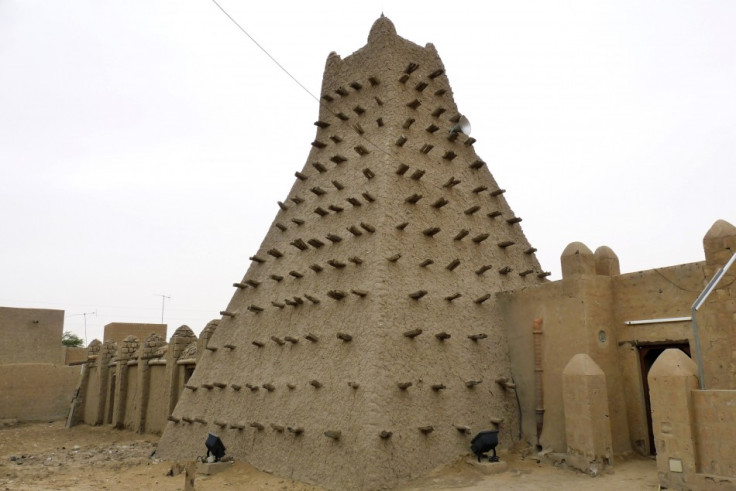 Islamists who took control of northern Mail have destroyed two tombs at the Djingareyber mud mosque in Timbuktu as part of their ongoing campaign of desecration of Muslim icons.
Islamists belonging to Ansar Dine (Defenders of Faith) attacked the mosque, one of the most important in Timbuktu, in a violent act that recalled to the Taliban's 2001 destruction of two huge Buddha statues in Bamiyan, Afghanistan.
Religious radicals consider practices such as worshipping at tombs and erecting structures on graves un-Islamic and sacrilegious, despite being widespread throughout the Muslim world.
"The Islamists are busy destroying two tombs of Timbuktu's great Djingareyber mosque. They are shooting in the air to chase away the crowd, to scare them," one witness told AFP.
Ansar Dine 'will destroy everything'
"The two mausoleums are adjacent to the western wall of the great mosque and the Islamists have hoes, chisels, they are hitting the mausoleums which are made out of packed earth," said one witness.
"They say they will destroy everything."
The extremists' desecration campaign has entered its second week. It targets cultural treasures around Timbuktu after Unesco included them on a list of endangered World Heritage sites.
Ansar Dine declared the ancient Muslim shrines "haram" or forbidden and destroyed seven of Timbuktu's 16 mausoleums of ancient Muslim saints.
The Djingareyber mosque - the oldest - was built by Sultan Kankan Moussa after his return in 1325 from a pilgrimage to Mecca. All have been restored several times.
Known as the "city of 333 saints", Timbuktu was one of the world's most important commercial and intellectual centres. Far from being only a desert crossroads, it was also a centre of learning where Islamic and desert architecture merged.
Mali's government and the international community have expressed outrage at the destruction of cultural treasures in the fabled city.
War crime
"My message to those involved in these criminal acts is clear: stop the destruction of the religious buildings now," ICC chief prosecutor Fatou Bensouda told AFP.
"This is a war crime."
David Adjaye, editor of the website Nigeria Intel, said: "There is the faint possibility that the monuments of Timbuktu might with time be repaired and renewed. But what is happening in Mali is a stark warning that we need more than Unesco World Heritage titles to preserve our story and ensure its retelling for future generations."
Ansar Dine fighters are among the groups linked to al-Qaida in the Islamic Maghreb. It occupied the north of Mali in the chaos that erupted after a coup in Bamako in March.