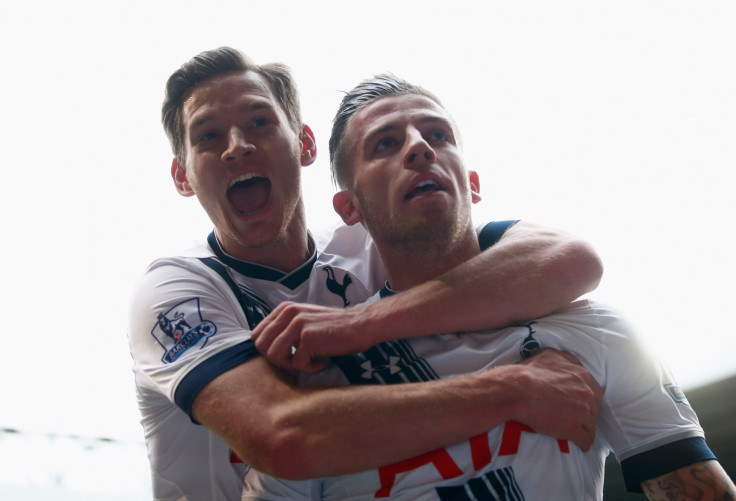 Toby Alderweireld insists he will still be a Tottenham Hotspur player next season – although he is still waiting on a new contract offer from the club.
Alderweireld, a rock in the Spurs back-line since his arrival in north London in 2015, is one of the few members of the first-team still to commit to a new long-term deal. The Belgium international signed a four-year contract following his arrival from Atletico Madrid but a report from The Times in May claimed the centre-half was stalling on an offer – and will only sign if a release clause is included.
Spurs boss Pochettino later commented he had "no doubt" Alderweireld would still be his player next season, a view shared by the player himself.
Alderweireld told Het Laatste Nieuws: "I am still waiting for a contract proposal but in my mind I am playing for Spurs next season.
Speaking to Sky Sports, he added: "There is no talk now, so it is all rumours, because if there is no talk there is no rejection as well. We will see in the future how it will go."
Alderweireld, aged 28, is currently away with the Belgium national team where there is no shortage of players being quizzed about their club futures, with Romelu Lukaku and Michy Batshuayi also the subject of speculation.
Jan Vertonghen isn't one of them, however, having signed a new deal with Spurs last December, but there is plenty of transfer talk regarding his club teammates Kyle Walker, Christian Eriksen and of course Alderweireld.
Despite growing interest in a number of Pochettino's stars, Vertonghen is confident his side have the "strength and power" to retain the core of players that secured a second place finish in the Premier League last season.
"I think these guys [Walker, Eriksen, Alderweireld] showed there importance this season and for a couple e of seasons now," he told Sky Sports. "I think Tottenham has strength and power to keep guys like that these days and I really hope they stay and all push together for something very nice next season."