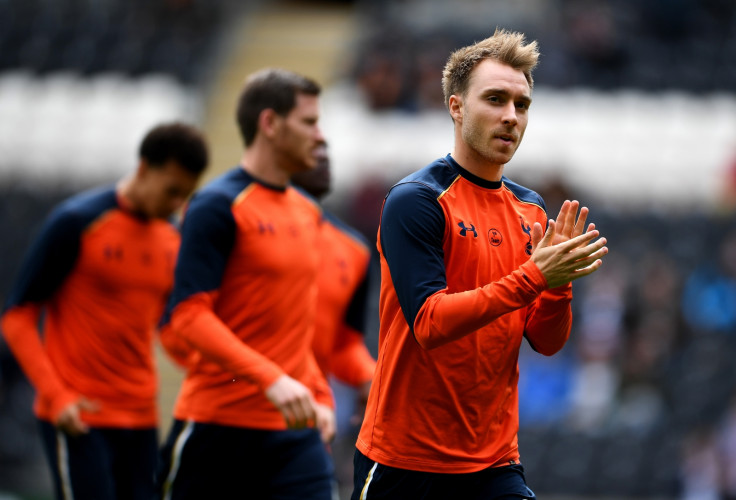 Christian Eriksen insists he has no immediate desire to leave Tottenham Hotspur but admits it would be "hard to say no" to Barcelona one day.
Before signing for Ajax in 2018, Eriksen had trials with some of Europe's biggest clubs including Barcelona, Chelsea, Manchester United and Milan, before eventually signing for the Dutch giants. While the Dane doesn't look back too fondly on his first experience with the Catalans, he says there are not many players in world football who would pass up the chance to play at the Nou Camp.
"I have been there [at Barcelona] at some point and it was not very good," he told Danish newspaper Ekstra Bladet. "Barcelona are a great club and I do not think there are many who say no to Barcelona.
Since joining Spurs from Ajax in 2013, Eriksen has grown into one of the best players in the Premier League in his position, finishing the 2016-17 season as Tottenham's players' player of the year and with 12 goals and 23 assists to his name.
While he admits a legitimate offer from Barcelona would be tempting, Eriksen reassures Spurs fans he isn't looking to move on from north London just yet and could remain at the club in the long-term if Tottenham continue to match his ambition.
"But there is interest and there is definite interest. Before there is concrete interest, I have no opinion on it. There are always rumours about footballers. I still have a contract with Tottenham for a few more years.
"In the future I see myself at the highest level. That's what I dream about. It can be about two to three years. It may be in another club or it could be Tottenham if we have come all the way up."
According to Catalan daily Sport, one of the club's priorities this summer will be to bring in a marquee midfielder to become a long-term replacement for Andres Iniesta as part of a €135m overhaul. Ernesto Valverde, appointed the new head coach at the Nou Camp last week, has already been frustrated by Ander Herrera and Marco Verratti's decisions to stay at Manchester United and Paris Saint-Germain respectively.