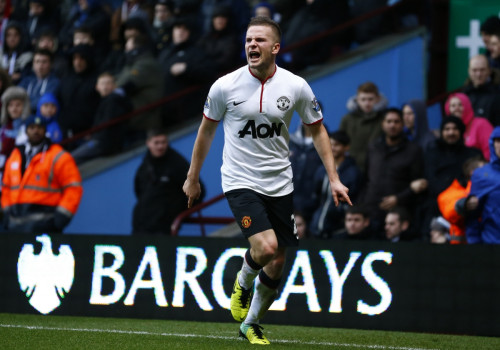 Manchester United and England midfielder Tom Cleverley admits criticism from his own supporters has damaged his confidence.
The 24 year old has made 18 league appearances for United this season but has been made a scapegoat by fans amid the club's failed attempt to defend their Premier League title.
Cleverley was subject to abuse during a Twitter question and answer session with fellow-midfielder Michael Carrick on United's official twitter account and the former Watford loanee admits he has been hurt by the reception to his form.
"When I first started getting singled out, it stung, yeah," Cleverley told The Daily Mirror. "But it's something you have got to learn to take when the team is not doing well.
"My job goes under the radar at times. I am not a player who's going to beat three or four people and stick it in the top corner or go round tackling people like Roy Keane.
"I would like the fans on my side and it hurts a little bit when you have grown up at the club and love the club every bit as much as the supporters.
"But there are other people in the current United squad who have been through this kind of thing and they have made sure their quality shone through.
"I have got to look at those people. I have learned to take it with a pinch of salt and I'm sure it will make me stronger for the rest of my career.
"I feel I've been made a scapegoat a little bit. A few people in the media certainly seem to have a perception of me not doing much in the team.
"Don't get me wrong, I know I can do better but people are making a big thing about how I don't score enough goals when that is not necessarily my first job in the team."
The primary accusation levelled at Cleverley is the thrust of his passing in the final third, which lacks a cutting edge and United's run of three wins in nine in 2014 is said to have been affected by the England man's form.
And Cleverley admits the reaction on Twitter has affected his form, particularly given that it comes from United fans.
"My confidence has been a little bit low at times this season," Cleverley admitted. "There is not much worse for a player than getting it off his own fans.
"I don't mind hearing stick off 19 of 20 Premier League clubs. But when it comes from your own fans, it hurts a little bit more.
"The fans at Old Trafford have been magnificent. It's just background noise you can't help hearing when you're a United player.
"You have got to learn not to take it on board. You have to remind yourself you got yourself in this position through talent and hard work.
"My skin is a lot thicker now. I go into every game with a clearer head. You have just got to ride out the hard times.
"The history of this club is all about fighting back and I am absolutely determined that my future is here and that I will fight back with it."