Manchester United have emerged as the favourites to sign former Liverpool winger Thomas Ince, who has impressed since moving to Championship side Blackpool.
The Daily Express has suggested that United have made Ince a January target and are already close to agreeing a £6million deal for the England Under-21 international.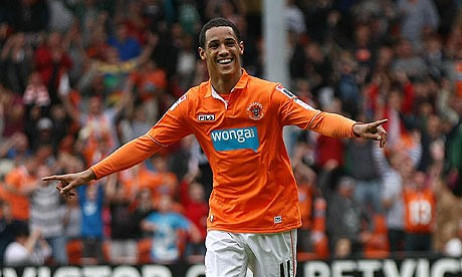 Yesterday it was reported that Manchester United boss Sir Alex Ferguson was growing frustrated by the performances of Nani and could look to sell the Portugal international when the transfer window opens.
The Sunday Mirror claims that Italian champions Juventus will make an offer in January to test the waters and see if Ferguson is prepared to allow the 25-year-old to leave.
That would leave a space in the squad and it seems it could be filled by a player who was told by Liverpool that he was not good enough to make the grade.
Ince joined Liverpool as a youngster and looked to follow in the footsteps of his father Paul who played for the Reds in the late 1990s.
Since joining Blackpool, the winger has particularly impressed, scoring six goals last season and this year as many goals in just six league appearances.
Blackpool boss Ian Holloway appears to have got the very best from the exciting young winger and this was highlighted when he made his England Under-21 debut against Azerbaijan earlier this month.
Now it seems he could have the opportunity to prove he is a Premier League player if Manchester United are able to complete a deal at the start of next year.
Ferguson was the manager who signed Paul Ince from West Ham back in 1989 for just £1million and it seems he now wants to sign his son.
Just 20 years old, Ince is still developing his game but he has plenty of pace and bags of ability. He can also play on either wing and is known for his great delivery with his left foot.