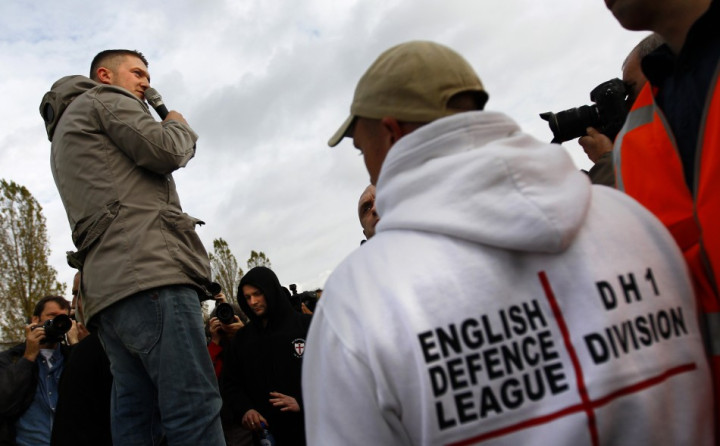 Left-wing campaigners say questions still need to be answered after English Defence League leader Tommy Robinson sensationally quit the far-right anti-muslim group.
Robinson, real name Stephen Yaxley Lennon, resigned from the group in a dramatic move, saying that worrying about the decision to do so had given him insomnia.
Deputy leader Kevin Carroll left the EDL alongside Robinson. The pair cited far-right extremism within the ranks as a reason for their decision.
The Quilliam Foundation - a counter-extremism organisation founded by former radical muslims played a role in the dramatic decision. Robinson and Carroll were pictured with Quilliam co-founder Majid Nawaz at their resignation.
Hope Not Hate, which campaigns against the far-right in Britain, said Robinson and Carroll must do more by recanting the "ugly" principles of the EDL.
Director Nick Lowles said: "Only a complete renunciation of the violence and hatred the EDL leaders have promoted, and a turning away from the anti-Muslim rhetoric they have championed, will be enough for the many thousands who have suffered from the EDL's ugly actions over the past three years.
"EDL supporters have called for mosques to be burned, holy books to be destroyed, Muslims to be deported, they have cost us £10m in policing bills, brought disorder to our streets, and many, many more have been sentenced for acts of violence, gun possession, paedophilia and other crimes."
According to sources close to Robinson, he is set to stay in the public eye by joining another organisation.
Lowles said Robinson could not continue with the same fiery anti-muslim he epoused in the EDL. He said: "Merely setting up a new party or anti-Muslim organisation will not be enough to convince anti-hate campaigners, and those interested in democratic government, that Lennon and Carroll have truly renounced their ways. We hope they have. Well done to Quilliam but many questions still remain."
Hope Not Hate also turned the spotlight on to wealthy backers it claimed have supported the EDL with cash. In 2011, the Sunday Times published the names of a property tycoon and City financier who allegedly funded the EDL.
"What happens now to those wealthy individuals who have backed the EDL leaders to the hilt? We doubt they, or Lennon and Carroll, will disappear so quickly from the scene," said Lowles.