English Defence League (EDL) leader Tommy Robinson has quit the controversial anti-Muslim campaign group.
The shock announcement from Robinson will rock the organisation he founded to battle militant Islam.
Announcing his dramatic departure, Robinson cited far-right extremism as a reason and said he had been mulling his decision for some time.
Robinson said: "I have been considering this move for a long time because I recognise that, though street demonstrations have brought us to this point, they are no longer productive.
"I acknowledge the dangers of far-right extremism and the on-going need to counter Islamist ideology not with violence but with better, democratic ideas."
Deputy leader Kevin Carroll has also left the group, it was announced. A spokesman for anti-extremism group Quilliam called it a "huge success."
Click here to see Robinson and Carroll with the co-founder of Quilliam and former muslim radical, Majid Nawaz.
The group, which was founded by a former fundamentalist Muslim who recanted his extremist beliefs, assisted Robinson in departing from the EDL.
It called for supporters of the EDL to walk away from the group.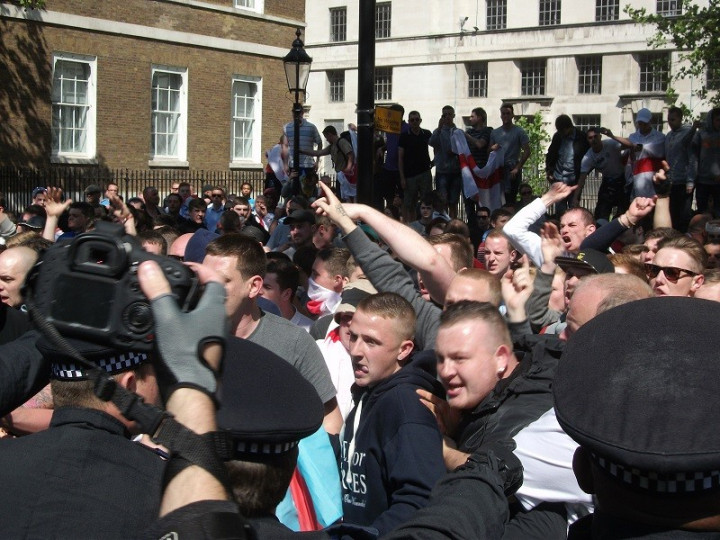 "We have previously identified the symbiotic relationship between far-right extremism and Islamism and think that this event can dismantle the underpinnings of one phenomenon while removing the need for the other phenomenon," said a Quilliam spokesperson.
"We hope to help Tommy invest his energy and commitment in countering extremism of all kinds, supporting the efforts to bring along his former followers and encouraging his critique of Islamism as well as his concern with far-right extremism.
"We call all of Tommy's former colleagues in the EDL to follow in his footsteps and also call on Islamist extremist leaders to follow this example and leave their respective groups."
READ MORE:
EDL's Tommy Robinson 'Will Definitely Form New Group' After Quitting
EDL Leader Tommy Robinson with Former Islamist Majid Nawaz (FIRST PHOTO)