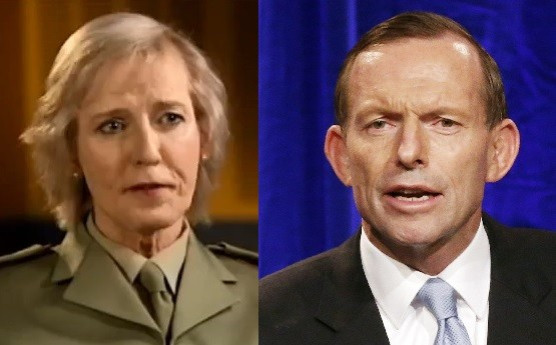 Australia's prime minister Tony Abbott has been close friends with transgender army lieutenant Cate McGregor for over 30 years.
Abbott, 55, is known for his conservative views on gay marriage, his strong Catholic beliefs and his views of equality for women.
However, McGregor said the prime minister has been fully supportive of her decision to become a man.
In an interview with ABC radio, McGregor, the highest-ranking transgender individual in the Australian Army, said she and Abbott are very close: "Tony's one of my longest uninterrupted continuous friends," she says.
"We're close. It has been written about him recently that he has a great gift for friendship, and that's very true. Tony's got very eclectic friends."
Abbott and McGregor met over 30 years ago playing rugby. She said they used to meet regularly when she was still a man, named Malcolm.
When she withdrew from the army for several months to complete the transition, Abbott became concerned about her wellbeing and McGregor decided to tell her friend.
"He started to get quite persistent. I thought 'he's owed an explanation."
She asked Abbott to read two pages of her memoirs that she wrote during the transition period: "I texted and said 'give me a private email address that no one will read', and I sent him Chapter 11 of Indian Summer, which in the last two pages alludes to what was going on.
"And I just said to him 'I have no reasonable expectations that you'll accept this, both on account of your ideological views and on account of your religious views, and I'll think none the less of you if you don't accept it'.
"I mailed it, hit send, and within an hour, the phone rang. And he just said 'look, it changes nothing'.
"He said, 'what's your preferred name now?' And I told him. He's addressed me by that name ever since."