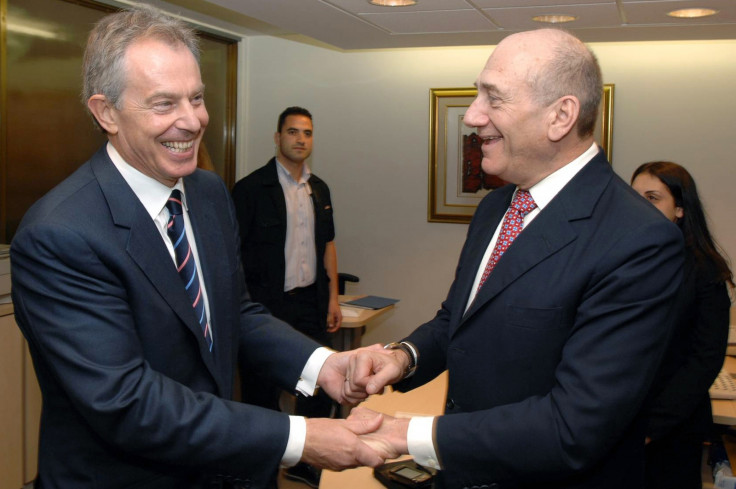 As Tony Blair stands down as Middle East envoy, few in the region will mourn his departure. It is an almost unanimously-held view that the former British leader-turned-peacemaker-cum-millionaire consultant did little of substance in his role.
Much of that was the bloody legacy of the wars that Blair waged in Iraq and Afghanistan, conflicts that he and his American allies began and which still rage across the region today. Indeed, when he first announced his role at the Quartet, it was received variously as a bad joke or a grave insult to the region whose stability he had done so much to destroy.
But it would be far too easy to condemn Blair for the mess he left in the Middle East when he stood down as prime minister in 2007 – a year which was, coincidentally, the bloodiest on record in Iraq since the 2003 overthrow of Saddam Hussein. It was not only the cavalier and reckless way that Blair waded into the Middle East in 2001 and 2003 that wrote his epitaph.
His record of progress in the years since he became Representative of the Office of the Quartet in 2007 has been negligible at best. He has been largely absent over the issues of Syria and Iraq and in Israel and Palestine – which Blair has touted as his sphere of influence as envoy – he has achieved absolutely nothing as he stands down this week.
The peace talks between Israel and the Palestinians are as non-existent as they have been since April last year and, despite frequent visits to the region, Blair has had no role whatsoever in any efforts to broker a deal between the two parties. Even the areas that Blair and the Quartet have trumpeted as achievements have proved to be illusions, say senior Palestinian figures.
It is an open secret in the West Bank and East Jerusalem, where Blair kept an office close to the leafy British Council building, that the Palestinians once toyed with making him a persona non grata in Palestine, so obstructive did they find any involvement that he had in negotiations between Ramallah, the Palestinian city in the West Bank, and the Israelis.
When IBTimes UK spoke to a senior Palestinian Authority figure in the wake of the initial announcement about Blair standing down as envoy earlier this year, he laughed: "What am I going to say? The man didn't do anything," he said.
One of the major achievements that Blair and his people like to talk about is Bethlehem, which he has seen as integral to his personal mission of developing the Palestinian economy. It is true that with Israeli's easing of restrictions on checkpoints, tourist numbers have increased, up to a record-breaking four million in 2014 – but those gains are deceptive.
Of the millions of tourists that visit Bethlehem, only a fraction of them stay overnight in the West Bank, most travelling to and from Israel on Israeli tour buses, which have, perversely, benefited from the easing of restrictions as their Palestinian counterparts have gained little new business. That, officials say, is the true picture of Tony Blair in Palestine.
In an interview with Newsweek earlier this year, Blair was quizzed on what he was doing to rectify this problem by Palestinian Tourism and Antiquities Minister Rula Ma'aya. Asked to push the Israelis more to ease restrictions on movement for Palestinians, Blair said simply: "It's tough. It's really tough." He then shrugged and avoided the questions.
Perhaps it is testament to Blair's famous arrogance that he considered his failures as Middle East envoy to be down to the "narrowness of his role" and was looking for a more wide-ranging position on the world stage. After eight years supposedly involved in solving the greatest and most long-lasting conflict in the Middle East – perhaps the root of all of its conflicts – Blair considers the role narrow. You couldn't make it up.
There is arguably only one place in the Middle East that Blair would comfortably be able to rely on a good reception from the locals, and that is Iraqi Kurdistan. Many Kurds consider that it was Britain and America's intervention in Iraq in 2003 that paved the way for relative peace and stability in Iraqi Kurdistan, the last year or so notwithstanding.
But recent events suggest that even that is now fading. The Kurds face a menace in Islamic State that was born out of the instability in the Middle East that Blair and others created.
His failure in Jerusalem has only added insult to injury, with the blame both on Blair personally and for the Quartet for appointing him and accepting his catalogue of failures and, at times, appearance of complete disinterest in the conflict in Israel and Palestine.
Blair's legacy is a Middle East more divided, chaotic and sectarian than arguably ever before and if he is really leaving the Quartet for a wider, more global role then, frankly, God help us all.