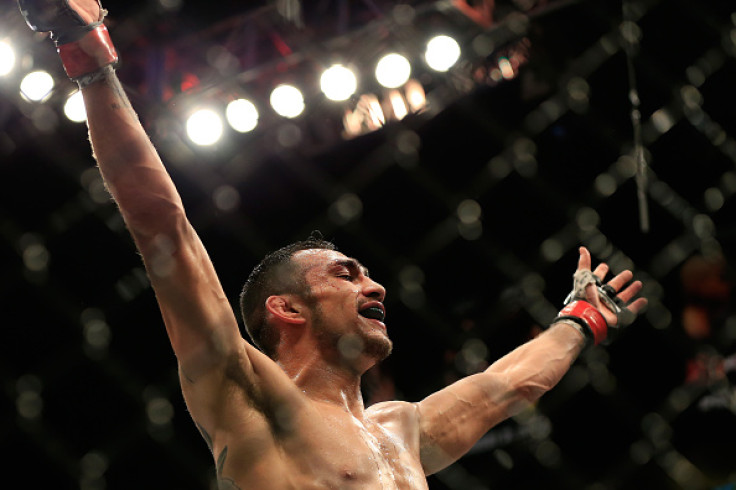 UFC fighter Tony Ferguson has taken a dig at newly-crowned UFC lightweight champion Conor McGregor for losing his fight to Nate Diaz earlier in March and advised the Irishman to be prepared to get wrecked when he decides to face him.
The 28-year-old lost to Diaz at UFC 196, but managed to avenge the loss when he defeated the latter at UFC 202, five months after losing to him in Las Vegas. He extended his winning streak and defeated Eddie Alavrez at UFC 205 at Madison Square Garden, which saw him being crowned as the new lightweight champion.
McGregor created history as he became the first fighter to hold two titles at the same time. However, his joy did not last long as the UFC stripped his featherweight championship belt and installed Jose Aldo as the new champion.
Ferguson, who is the number two in the lightweight ranking behind Khabib Nurmagomedov, has criticised McGregor for losing a fight against Diaz at UFC 196. The Irishman earlier had revealed that he would take a break from the sport to welcome his first child and warned McGregor even before deciding when he would return from his break.
"That dude got beat by number five in the world, Nate Diaz. Everybody is talking about him being the best. He got beat by number five, I'm number two and I am the only name that you haven't thrown out there in the wind," Ferguson explained, as quoted by MMA Mania.
"This is the fight game, I ain't worried about no one that isn't talking about me. That dude does not want any part of me. Like I said, go ahead, you get a little pass from me. Enjoy your family time, do your thing, enjoy your life. You have some money, go ahead, spend it, do your thing, relax, enjoy your time and try to find you.
"And while you're doing that, I am going to be over here wrecking this shit, me and my crew. Then we're going to go on to the next stage, when you come back, we're going to wreck your ass. I'm going to stay here and be ready," he said.
"When I had my baby I didn't take a leave of absence. I manned up, did my thing and I fought. I'm just here doing what I had to do. I'm not responsible for anyone else besides me and my family."
No fight has been announced between Ferguson and McGregor so far. The American is keen on getting into the octagon with the lightweight champion, as he believes he has all the abilities to beat him. Ferguson is unbeaten in his last nine bouts and this includes a victory over Rafael dos Anjos in his last fight on 5 November.