Since the surprise US Presidential election win by Donald Trump in November last year, the US stock market has gained almost 14% – strong performance by anyone's measure!
US investors have been encouraged by a combination of robust US economic growth, and the prospect of a business-friendly president cutting taxes and removing regulation. All of which promises to be good news for corporate earnings, justifying higher share prices.
Investors who want to buy into this positive momentum are faced with relatively expensive US stock market valuations – the benchmark S&P 500 index now sits at a relatively expensive 18 times price/earnings ratio following this latest run up.
There is perhaps a better way for UK-based investors to put their money to work in the US. Rather than buy a US stock fund or ETF, one could instead invest in a number of UK-listed companies that have substantial operations or exposure to the US.
Cheap pound could tempt US acquirers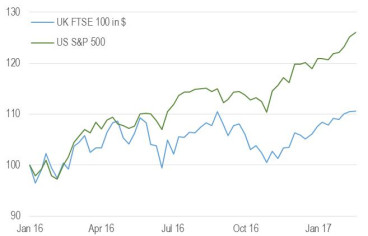 A key attraction of UK-listed companies is that they could become takeover targets for larger US competitors, given the low level of the pound against the US dollar (particularly post June's Brexit vote). Since the beginning of 2016, the US S&P 500 index has risen 26%, while the UK's FTSE 100 index has only gained 11% over this period, when measured in US dollars (Chart 1).
High US dollar revenues in a variety of different industries
Let's take a look at 5 UK companies covering a diverse range of industry sectors, including health care, aerospace & defence, utilities, tobacco and insurance (Chart 2).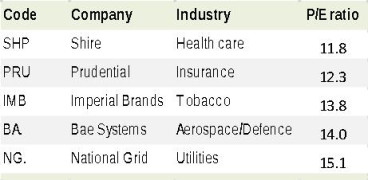 These companies all have large exposure in the US, typically via operations that they own based the other side of the Atlantic.
Health care: Shire plc (SHP)
Shire is a pharmaceutical company with its headquarters in Dublin, focusing on attention deficit hyperactivity disorder (e.g. in children) and also rare diseases. They have recently increased their US exposure heavily via their $32 billion merger with US-based pharmaceutical company Baxalta (Chart 3).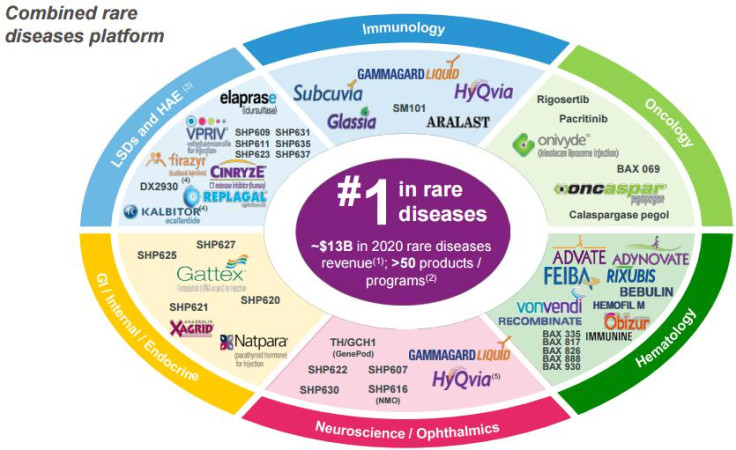 Insurance: Prudential (PRU)
The insurance company Prudential (not to be confused with a US company of the same name) has a large footprint in the US life insurance market via its subsidiary Jackson. In fact, Prudential's US and Asian operations comprise the bulk of sales and outstanding insurance policies, with the UK representing only about one quarter of Prudential's overall business.
The Pru has been very successful in past years in generating growth both in the US and Asia, and yet is valued on a modest 12.3 times P/E ratio, far cheaper than the FTSE 100's 15.1x.
Tobacco: Imperial Brands (IMB)
Imperial Brands is one of the largest tobacco companies in the world, also increasingly investing in other products such as e-cigarettes. The trend in the global tobacco industry has been one of consolidation in recent years, with Imperial's larger rival BAT in the process of buying its US rival Reynolds. This raises the question of whether Imperial Brands itself could fall prey to a larger foreign rival, from the US or Japan.
Imperial Brands remains a very stable company offering a generous regular and steadily growing income in the form of a 4.6% dividend yield.
Aerospace/Defence: BAE Systems (BA.)
In the wake of the Brexit vote last June, Aerospace & Defence has been one exporting industry to have performed well in the UK. With its heavy US exposure via operations there and sales to the US Department of Defense, BAe Systems remains a key exposure to this industry, with the prospect of European NATO members increasing their defence spending this year and in the future, after under-spending consistently since 2008.
Utilities: National Grid (NG.)
Finally we have the defensive stalwart that is National Grid, responsible for the electricity and gas transmission networks not only in the UK, but also in the US. Fully 35% of National Grid's assets are to be found Stateside, based largely around New York, Massachusetts and New England.
National Grid also offers a steadily growing dividend, yielding 4.7% annually at its current share price.
So there you have it, five UK-listed companies with substantial exposure to the US, but which are valued more cheaply than either the US or UK stock markets!