Top Gear 2016 trailer: Chris Evans and Matt LeBlanc brush off feud rumours with pally teaser
British summer is finally on the horizon and besides guzzling jugs of Pimm's, taking country strolls and enduring relentless stints of hay fever, another pleasure awaits in the form of yearning over cars that only polluted dreams are made of.
Top Gear has released a teaser trailer that is a little less self-deprecating than the first, which showed Chris Evans vomiting by the side of a track and Matt LeBlanc's car breaking down.
Despite starting off in undesirable drizzly Blackpool, the pair are soon planted in sunnier climes as they push the pedals of an Ariel Nomad in the formidable sands of Morocco, and take idyllic road trips with star guests including Seasick Steve, Sharleen Spiteri and Tinie Tempah.
Chris Harris accelerates to a personal heaven when he steps on an Aston Martin Vulcan at the Abu Dhabi GP circuit. Viewers are also treated to a droolworthy Ferrari 250 GT TdF and a Ford Mustang, so if you're not planning on going away this summer and happen to love cars, then stay tuned.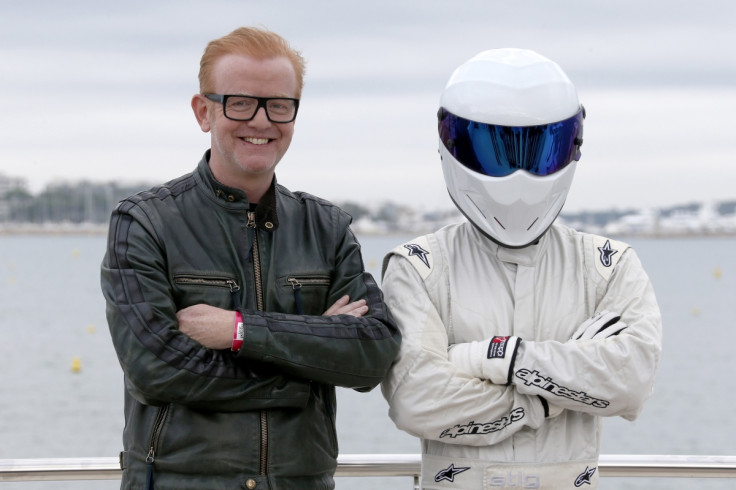 Chris Evans poses next to an anonymous man during a photocall for TV show 'Top Gear' at the MIPCOM audiovisual trade fair in Cannes, southeastern France, on October 6, 2015
Getty
The dreamy trailer couldn't come at a better time as BBC bosses have fought off rumours about Evans' diva-like behaviour – and his not being a fan of co-host, LeBlanc, following the controversial Cenotaph stunt.
Former Top Gear host Jeremy Clarkson, who was famously sacked last year after punching a producer, has hopes for the revamped BBC show becoming a success but not out of kindness.
The TV presenter, who is fronting his own Amazon Prime show with on-screen buddies Richard Hammond and James May, has denied attempts to "scupper" Evans' efforts on reviving the series, as doing so would affect his finances.
Speaking in a talk in central London, Clarkson stated: "What's very entertaining is that Chris Evans is having a very hard time at the moment as he attempts to put Top Gear back together again.
"It's been suggested that I am behind it, that I am trying to scupper him. But I discovered the other day that every time it gets recommissioned I get paid – so that's a curious bit of BBC contract – but I wish them all the very best."
The new trailer will air tonight on BBC1 and BBC2 simultaneously, falling between EastEnders and Masterchef on the former channel Top Gear season 23 will premiere in the UK on the 8 May and come to BBC America later this month.
First Top Gear 2016 trailer:
© Copyright IBTimes 2023. All rights reserved.