Top Russian politician admits Kremlin 'stole' US presidency live on TV
Former Putin aide Vyacheslav Nikonov said American spies "slept" while Russian agents helped Donald Trump.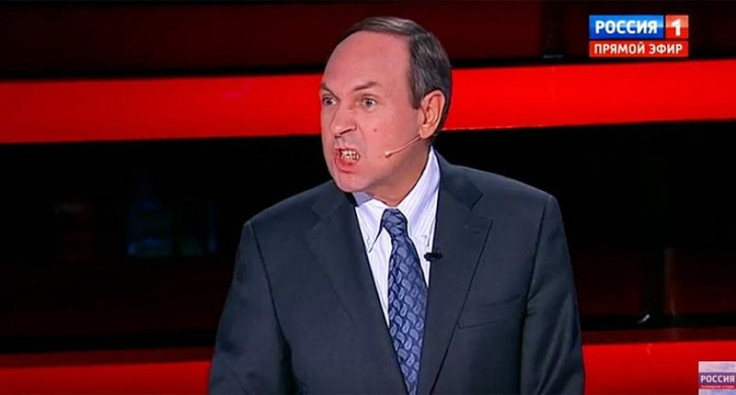 A top Russian politician said American spies "slept" while the Kremlin "stole" last year's US presidency, helping Donald Trump win the race for the White House.
Vyacheslav Nikonov, a former aide to Russian President Vladimir Putin, made the off-the-cuff claim on domestic TV at the weekend.
The heavy hitter in Putin's ruling United Russia party told panel show Sunday Evening with Vladimir Solovyov: "US spies slept when Russian intelligence stole the presidency of the United States".
Nikonov's claim was first noticed by Russia expert Julia Davis, who monitors Russian political TV broadcasts and frequently uses her Twitter account to post translations of notable statements by leading Russian figures. Davis also operates the Russia-monitoring site RussiaLies.com.
Nikonov is a senior member of Russia's parliament and the grandson of Vyacheslav Molotov, the inspiration for the Molotov cocktail improvised explosive device, who also served as Josef Stalin's foreign minister during World War II.
Davis added that Nikonov's remarks came as he boasted about the superiority of Russian intelligence services over US spies, adding that this lead also extends into more effective networks in North Korea, Afghanistan and Syria.
However, some Kremlin watchers said Nikonov's comment was predominantly meant to taunt the US about the weakness of its intelligence services, as perceived by Russia.
"His point in making the remark was that if the US can't protect the integrity of its own electoral system, then how powerful can it really be?" University of Virginia professor Allen Lynch told US politics website The Hill.
Spy networks
The Trump administration has been dogged by claims that its campaign team met with Russians who attempted to spread propaganda against Democratic candidate Hilary Clinton and in favour of the former reality TV star.
US intelligence agencies believe Russia tried to sway the election in favour of Trump. There are now several official investigations looking into whether anyone from his campaign played a part in these efforts.
The Kremlin dismissed claims that it interfered in the race for the White House as "amusing rubbish that has no basis in fact" last December.
In his early days in office Trump had talked about mending fences with Russia to fight Islamic terrorism around the world.
But in July Russia expelled hundreds of American diplomats and seized US embassy's Moscow summer house after Congress passed a tougher sanctions bill against the Kremlin.
The extended US sanctions were over Russia's 2014 annexation of Crimea as well as interference in the US election. They were passed in the Senate by a margin of 98-2. The tighter sanctions were passed earlier by the House of Representatives by a 419-3 vote.
The move against US diplomats by the Kremlin came months after the Barack Obama administration ordered the seizure of two Russian diplomatic compounds and expelled 35 Russian diplomats in response to alleged hacking of the US Democratic Party during Clinton's Presidential campaign.
Russia delayed its response to these sanctions passed in the last days of Obama's administration as a gesture of goodwill to the incoming Trump administration.
Earlier this summer, President Trump's son-in-law Jared Kushner testified before a US Senate panel and said neither he nor anyone in the Trump campaign team colluded with Russian officials over the US election.
© Copyright IBTimes 2023. All rights reserved.