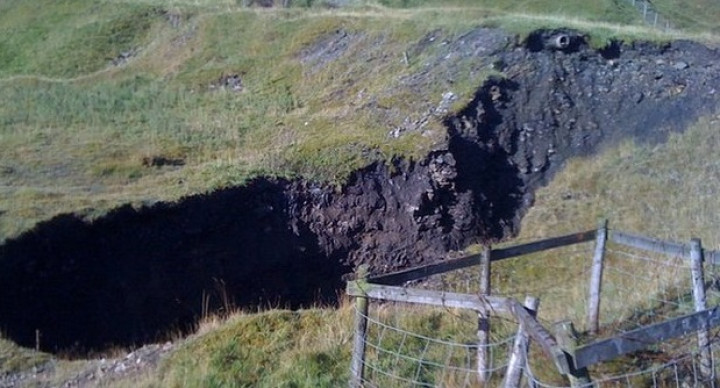 A gaping 200ft deep sinkhole in County Durham is at risk of widening even further with heavy downpours, which are forecast for next week.
The sinkhole appeared yards away from farmer John Hensby's house in Cowshill near Bishop Auckland on Thursday, and now he fears the 110ft-wide chasm will be made worse by torrential downpours.
Hensby, 71, is also concerned that the massive hole could pose a risk to local wandering sheep and dogs.
"The hole is stable at the moment, but we know there is torrential rain coming and the hole will get bigger – which is a real worry," he told the BBC.
"We don't think our lives are in mortal danger or anything like that, but all the local farmers have been warned as we don't want any sheep wandering over and getting swallowed up. Long term, what will happen to a hole so big? We will just have to wait and see."
Hensby, a retired salesman, lives in a stone two-storey house built in the 1870s and owns 10 acres of former mining land. He has lived in the former mine manager's house for six years.
"I'm not worried about my house as it is on stable land – not actually on a mine," he said.
Hensby believes the hole near his home could be linked to 19th-century iron or lead mining in the area, although he has not been able to find evidence of a shaft that may have collapsed.
He said small holes have appeared in the area from time to time, but none as large as the current sinkhole have ever been seen before.
"Some council experts came to inspect the hole, but we are not sure what can be done," Hensby said.
"We are crossing our fingers it doesn't get much bigger, but it is approaching a public footpath now."
The Met Office has issued a severe weather warning for Bank Holiday Monday, with wet and windy conditions expected to bring as much as 30mm of rain in some parts of the UK.
Residents were advised that holiday traffic and outdoor activities could be affected by the stormy weather.
Met Office chief forecaster Eddy Carroll said there will be plenty of strong and gusty winds, and a lot of surface water across England and Wales on Monday.