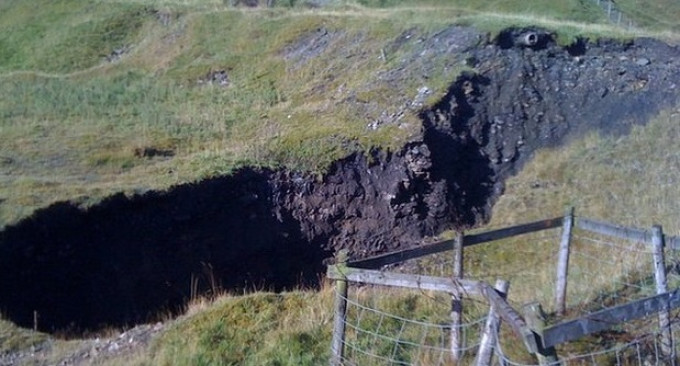 A 100ft sinkhole has appeared yards from a farmer's house in County Durham, north-east England.
The hole was discovered on Thursday morning and is so deep that the bottom cannot be seen at one end.
The chasm continues to grow and has prompted fears of a further collapse when forecasted heavy rains arrive.
John Hensby, 71, said the hole near his home could be linked to 19th-century iron or lead mining in the area, although he has not been able to find evidence of a shaft that may have collapsed.
"It is astonishing - if you could have heard the bangs, crashes and rumbles when it first happened you would understand how terrifying it was," he told The Daily Mail.
"My partner Sam had been walking one of our dogs when she found it on our land around 80 metres away from our house.
"The land is surrounded by a sheep farm and there are two or three around at the moment. If a sheep was to fall down the hole then that would be the end of it. It would be the same for our two dogs. You wouldn't be able to get to them or even see them."
Hensby said small holes have appeared in the area from time to time, but none as large as the current sinkhole have ever been seen before.
"Some council experts came to inspect the hole yesterday, but we are not sure what can be done," he added. "We are crossing our fingers it doesn't get much bigger, but it is approaching a public footpath now."
Last week, a giant mile-long crack in the ground appeared in a rural part of northern Mexico, prompting fears of an earthquake in the area.
Rafael Pacheco Rodríguez, of the University of Sonora, said the eight-metre deep and five-metre wide crack could be the result of seismic activity or underground streams.