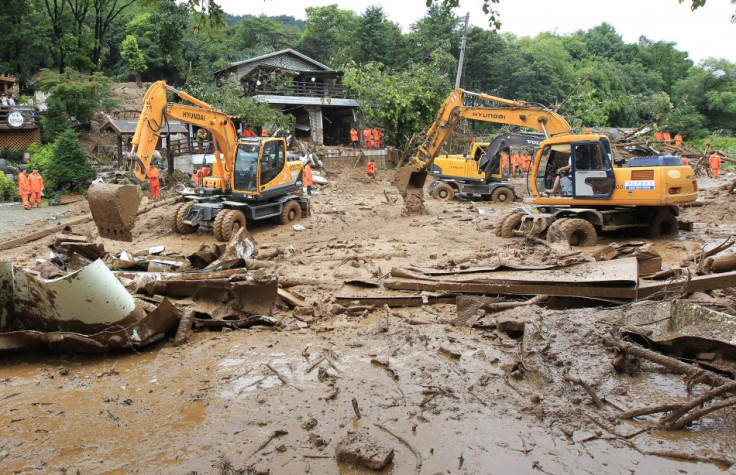 South Korea forecasts even more rain as emergency workers are still entrenched in a battle against floods and landslides that have killed at least 41 people.
The capital has been hit with the heaviest July rain on record, which triggered a mudslide in a residential area in the city's south on Wednesday and killed 16 people.
Meanwhile, in the Chuncheon area, 75 kilometres (50 miles) to the east of the capital, another 13 people died as a result of the weather, after a hill gave way, causing more damages.
"We're worried that even a little bit more rain could cause further landslides because the soil is so wet now," said Cho Ju Young, head of the disaster management team at the Ministry of Knowledge Economy. "People need to keep watching the situation closely."
Almost 4,600 South Koreans were evacuated from flooded homes, said Kang Sun Mu, a spokesman at the Disaster & Safety Management Office, before adding that approximately 1,200 people were still sheltering in nearby churches, schools and buildings.
The rest of the country has also been affected by the floods as, as much as 645 hectares (1,600 acres) of farmland was flooded, according to Kang, while the Ministry of Knowledge Economy said there were 86 power outages across the country.
Also, according to the weather bureau, South Korea has received at least 60 per cent more rain this month than in the same period in July last year.
The weather also affected the markets as on Wednesday insurers dropped in morning trading on the Korea Exchange before catching up on some of their losses before the 3 p.m. close in Seoul.
LIG Insurance Co. dropped 0.6 per cent, Dongbu Insurance Co. declined as much as 3.1 per cent before ending unchanged and Samsung Fire & Marine Insurance Co. slipped 2.3 per cent and recovered to close 0.9 per cent higher.
The Financial Supervisory Service warned in an e-mailed statement that automobile insurers may have to pay-out up to 27.5 billion ($26 million) in damages claims.
The General Insurance Association of Korea on the other hand has for now abstained to comment further as it said it doesn't have an immediate estimate on costs.
Also, aware of the damages caused by the floods, spokesman for Samsung Electronics Co. , James Chung in Seoul , has announced the company has set up a team to repair customers' rain-soaked products,
There were however no disruptions to flights at the nation's biggest airfield, said Lee Ho Sun, a spokesman at Incheon International Airport.