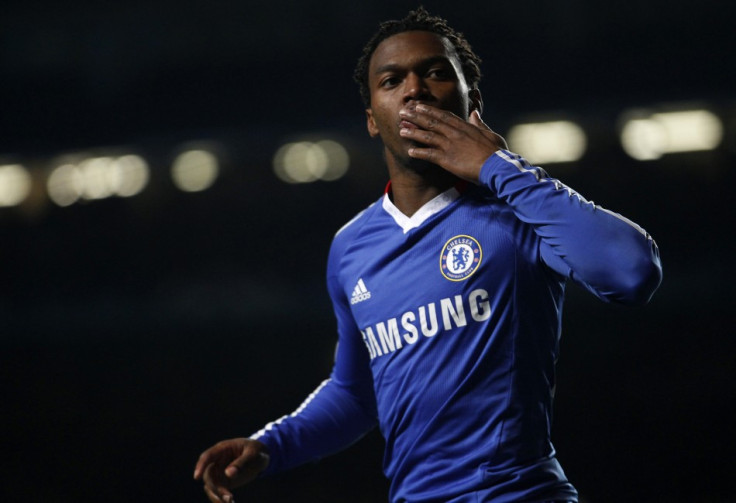 Daniel Sturridge is ready to take over Fernando Torres' position as number one striker at Chelsea, with the youngster hoping to show that he can fill the void left by Wayne Rooney in England's European Championship campaign next year.
Sturridge spent the end of last season on loan at Bolton, and scored eight times in 12 matches. Despite a great deal of transfer speculation suggesting that the England international might leave Stamford Bridge permanently, he has fought for his place with the Blues this season, and scored five goals so far.
Torres, meanwhile, has only scored five goals since joining Chelsea in January, with just one last season against West Ham. And while he netted against Manchester United in September, the Spaniard also hit what was arguably the miss of the season, and then just a week later was sent off against Swansea and banned for three matches.
And Sturridge believes that if he can continue his top form for Chelsea, he can become the number one striker for the side in place of the £50 million man.
"I want to continue playing for Chelsea, and I want to start playing as a striker, and then from there try to play for England as a striker," Sturridge said.
"That is my aim - to be No 9 for England."
Sturridge has made one appearance for the senior England side, with the 22-year-old named in the squad against Spain at the weekend, and then coming on as a second half substitute against Sweden three days later.
And while he is yet to score for England, Sturridge believes that if his form continues to shine for Chelsea, he will be given his chance to become a regular member of the international side's line up.
Sturridge spent a great deal of his youth career training at Manchester City. The starlet then made the move to Chelsea in 2009, after his contract at City expired. Chelsea and City couldn't agree to a fee for Sturridge, and it was eventually decided by a tribunal, with the player costing £3.5 million plus add-ons according to how many appearances he makes for the club and England.
The hitman has long insisted that he plans on making his mark at Chelsea, and while Sturridge has to compete with the likes of Didier Drogba, Nicolas Anelka and Torres, so far he has shown that he is capable of playing alongside the club's best.