Tory 2% GDP defence spending pledge was 'accounting trick' says Rusi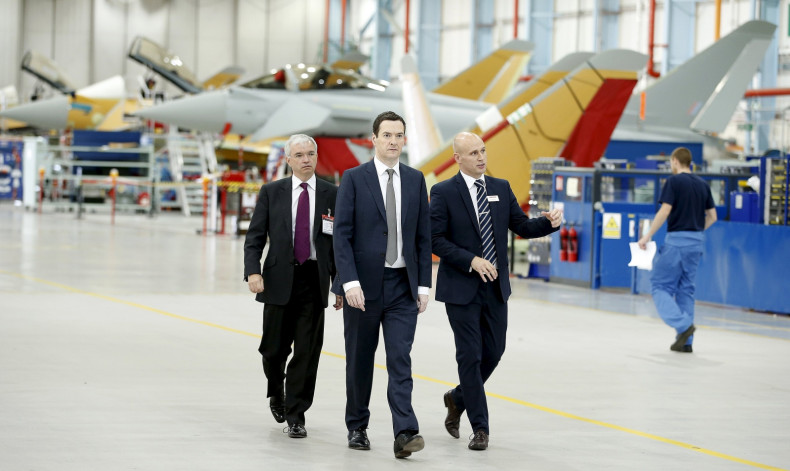 George Osborne was able to win praise from President Barack Obama and meet Nato's 2% defence spending commitment by making some accountancy manoeuvres, according to a top defence think tank.
Professor Malcolm Chalmers, the research director of Royal United Services Institute (Rusi), examined the defence spending pledge made in Osborne's post-election budget.
The top Tory announced the military would see its budget rise by 0.5% per year to around £38.9bn ($60.3bn) by the end of the parliament in 2020/21. The increase meant the Conservative administration could meet Nato's 2% of GDP defence target.
But Chalmers found the commitment was made possible by "a number of significant changes" in the government's calculation of its defence budget for Nato reporting purposes.
Chalmers, who is also a special adviser to the Joint Committee on the National Security Strategy, explained the UK would have just failed to meet the 2% target based on previous return rules.
"The UK would have been on course to spend £36,820m on defence in 2015: equivalent to 1.97% of GDP," the defence expert said. "In the return actually made to Nato, by contrast, the UK is projected to spend £39,019m equivalent to 2.08% of GDP. In total, therefore, the UK has added around £2.2bn to its Nato count."
Chalmers claimed the increase has been achieved by adding new items to the UK's Nato return, including war pensions (£820m) and UN peacekeeping contributions (£400m).
"For the UK's ability to meet this target over the coming five years reflects the fact that the government is now prepared to commit to a period of steady real-terms growth in its core defence budget," Chalmers said.
"If, even after such an effort, the Alliance's leading European military spender had ended up being pilloried for having fallen just below the 2% target, it would have dealt a serious blow to the credibility of Alliance burden-sharing commitments as a whole, with negative consequences for transatlantic relations."
A Ministry of Defence (MoD) spokesperson said the department welcomed the Rusi report.
"It's welcome that RUSI has recognised that the budget committed to significant real-terms increases in the defence budget, of 0.5% every year, and to meeting the Nato 2% target for the rest of this decade," the spokesperson said.
"The threats we face require a full spectrum response and our armed forces and security agencies work closely together to defeat many of these threats and counting appropriate parts of that spend is in line with Nato's guidelines.
"With the largest defence budget in Europe, the Strategic Defence and Security Review (SDSR) will focus on the how to respond to the threats we face to keep Britain safe. An increased budget doesn't mean any let up in our drive to be continuously efficient so that we can reinvest savings in new capabilities."