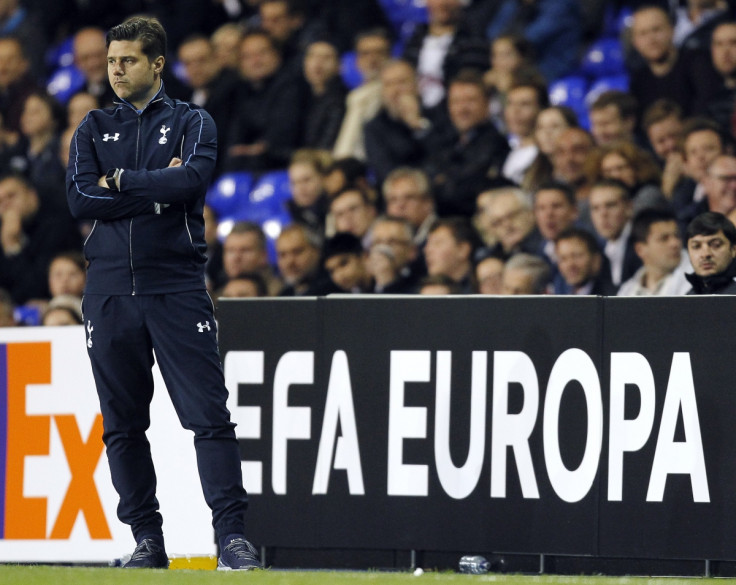 Tottenham Hotspur manager Mauricio Pochettino has heaped praise on recent signings Son Heung-min and Dele Alli after the pair inspired the north London club to victory over FK Qarbag in the Europa League. Son marked his full home debut with a double in the first half, the second set up by Alli, before Erik Lamela tucked home a late third.
Son arrived from Bayer Leverkusen in the summer transfer window is help cure Spurs' lack of strikers, while Alli moved to White Hart Lane last January before joining the first team in the summer after spending the last six months of last term back on loan at Milton Keynes Dons. Both making their European debuts for the club, Pochettino was thrilled with their performance but the Argentine has heeded caution over the development of 18-year-old Alli.
[Son] scored twice, played an hour," the Tottenham boss told a post-match press conference after the 3-1 win. "His performance you can see I am very happy with him. His potential at this club has been very good from the beginning. Son is a moveable played like a striker he played as a striker at Leverkusen and he has the quality to play in different position on the pitch.
"I think that Dele Alli in pre-season started to show as an 18-year-old he can play as an experience player. He showed good quality and I think today he showed he is a player that can play in the first team. With an 18-year-old you need to be careful because to keep the same level for one season is not easy. It is important to take care of him."
Tottenham's first home win of the season comes ahead of the visit of Crystal Palace, where they will seek to earn their first league victory of the campaign on their home patch. Pochettino hopes to have Ryan Mason, who injured himself in the process of netting the winner against Sunderland, while Christin Eriksen and Mousa Dembele could also feature.
"I think he is a good position, he is much better than Sunday," Pochettino said of Mason. "We need to assess tomorrow day-by-day. It is a big knock on his knee. It is not an injury or ligament, it is swollen and now he is in a process to recover. Maybe [he'll be fit]. We need to assess Christian Eriksen too. Bentaleb is out and Mousa Dembele we need to assess, maybe yes, maybe no.
"We have a lot of games ahead," he said ahead of a run of three games in a week for Tottenham. "We need to be careful with the players. We need to give time for them to recover and manage them in a good way because we have some problems with some players. Eric Dier got a knock on his knee in the last 15 minutes and we took him off as a precaution but we have a big squad."