Tottenham Held at Villa Park, Champions League Race Closes Up Dramatically
Tottenham Hotspur have Norwich and Newcastle to thank for keeping them in the race for Champions League football next season.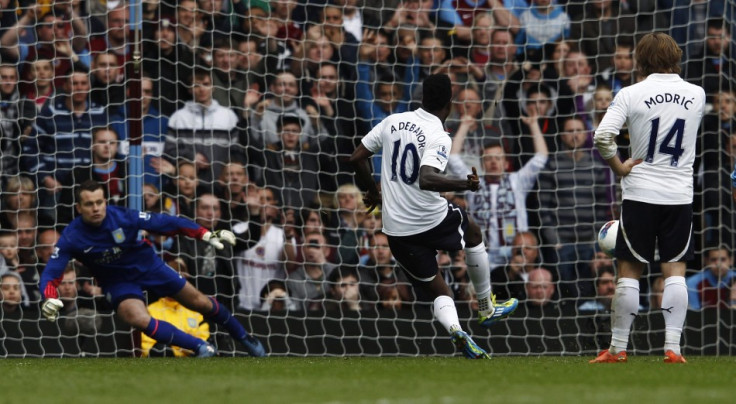 Tottenham Hotspur have Norwich and Newcastle to thank for keeping them in the race for Champions League football next season, after Harry Redknapp's men could only manage a draw away to Aston Villa. Then again, Arsene Wenger would have been delighted that champions-elect (well, almost, anyway) Manchester City beat Newcastle, at St James' Park.
It's all happening at the sharp end of the Premier League and this is certainly one of the most exciting seasons we've seen in a long time.
Earlier, on Saturday, Arsenal were lucky (click here for the full IBTimes UK report) to walk out of the Emirates with a point, after Norwich City held them to a well-deserved 3-3 draw. The result meant that if either Spurs or Newcastle won their respective games (against Villa and Manchester City), they would leapfrog Arsene Wenger's charges into the third and the final automatic qualifying position for Champions League football next season.
However, as it turned out, Wenger need not have worried. City duly beat Newcastle, courtesy two goals from Yaya Toure (read the full IBTimes UK report) and at Villa Park Spurs were forced to comeback from a goal and a man down to earn a 1-1 draw.
Redknapp has repeatedly dismissed any notion of squad rotation this season and so, as expected, the boss named his full first-team squad (barring injuries). Leading goal scorer Emmanuel Adebayor was supported by Rafael van der Vaart, Aaron Lennon, Gareth Bale and Luka Modric. Danny Rose (who would be shown a straight red early in the second half), William Gallas, Younes Kaboul and Kyle Walker were in defence, with Brad Friedel in goal.
The game started with both sides trading early shots and corners; Adebayor and Charles N'Zogbia on hand to test the opposition backline. The trend continued for the opening 20 minutes, by which time Dutch midfielder van Der Vaart, Croatian midfielder Modric and PFA Young Player of the Year for the season, Kyle Walker were all making their presences felt. By this time Spurs were well and truly in command, with Welshman Gareth Bale joining the party.
Therefore, the fact the first goal fell to Villa was rather surprising. However, there was nothing surprising about Ciaran Clarke's shot; it was smashed into the right corner from outside the box. The goal galvanised Spurs into action and they were soon back to working shots off on goal. However, despite a few van der Vaart attempts, the rest of the half played out without anything else of note.
Spurs needed to win this game, it was simple as that. They came out swinging in the second period but once again were guilty of both taking too much time on the ball and, on the occasion they did get chances, not scoring the goals they knew they needed.
Adebayor was proving to be a real handful as time wore on, and so was Brazilian midfielder Sandro. Spurs' equaliser, in fact, came as the result of these two - Sandro won the penalty just past the hour mark and Adebayor converted it.
It was suddenly 1-1 and the game was on. By this time, Spurs knew City had all but won the game at St James Park and pushed forward with vigour, knowing that a win in this game would take them into third place.
The rest of the game played out rather predictably, with Spurs dominating the ball and shots on target. However, there were no further goals and except for the dismissal of Danny Rose, Redknapp's men were untroubled throughout.
Tottenham now have 66 points from 37 games, one behind Arsenal and one ahead of Newcastle. The Gunners' last game of the season is away to West Brom and their brief will be simple - win or lose Champions League status. Newcastle, meanwhile, will have to pick themselves up from their defeat to City and concentrate on their trip to Merseyside to play Everton. Chelsea have, arguably, the toughest opponent in Liverpool, whom they will play on 8 May. Incidentally, the Blues will be confident going into this game, having beaten the Reds 2-1 in the FA Cup Final. Finally, Spurs will entertain Fulham on the final match-day, knowing they could still be disappointed in their pursuit of Champions League football.
© Copyright IBTimes 2023. All rights reserved.