Chelsea and Tottenham Hotspur are likely to face FA action for failing to control their players during their bad-tempered Premier League clash on Monday (2 May). Chelsea came back from two goals down to draw 2-2 with Mauricio Pochettino's side at Stamford Bridge, a result that ended their rivals' Premier League title hopes and handed the trophy to Leicester City.
A game already marred by ugly scenes escalated further as Chelsea equalised through Eden Hazard, with the evening concluding in chaotic scenes as a scuffle broke out in the tunnel – knocking over Chelsea manager Guus Hiddink in the process.
Tottenham saw nine players booked on the night, a new Premier League record that will see them handed an automatic £25,000 fine. But there is likely to be a more severe punishment for Mousa Dembele, who appeared to poke Chelsea striker Diego Costa in the eye during another melee towards the end of the first half in which Spurs boss Mauricio Pochettino was also drawn into.
The incident went unseen by referee Mark Clattenburg but the FA could choose to take retrospective action and charge the Belgium international with violent conduct – a charge that carries a three-match ban.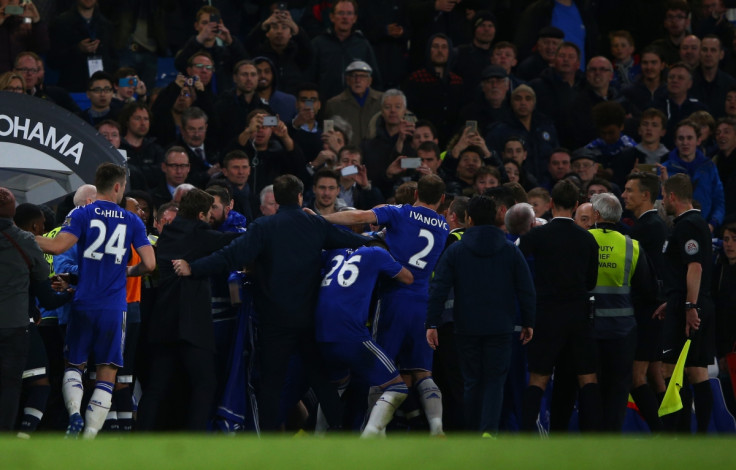 Tensions continued to boil over in the second half with Cesc Fabregas left incensed when Erik Lamela, who was already booked after a wild lunge on the same player, appeared to deliberately walk on the Spaniard's hand.
The FA can choose to take action if the incident is not seen by the match referee, despite linesman Simon Beck appearing to be looking straight at Dembele during the eye gouge incident with Costa. He also appeared to advise Clattenburg to take no action following the incident involving Fabregas and Lamela.
With just two games of the season remaining, any three-match bans would be carried over to the 2016-17 campaign.
Five players were booked in the final five minutes of the match, including Harry Kane, Ryan Mason and Eric Dier for wild lunges, with the latter lucky to stay on the pitch following a string of fouls.
Things continued to spill over after the final whistle when Tottenham's goalkeeper Michel Vorm and Costa became involved in a furious exchange that drew in both sets of players and backroom staff. Hiddink appeared to be accidentally knocked over by Tottenham's Danny Rose as he became hemmed in by the scuffle and had to be helped to his feet by stewards.
Speaking at his post-match press conference, Hiddink said: "I took one of my players [Fabregas], I tried to get him down the tunnel because there had been some words between him and someone in Spanish and I understand Spanish. You are threatening a bit with words normally − it is a normal reaction. But even at my age, I had no problems in falling down.
"Those incidents we must not have, but it happens. Let's calm down."