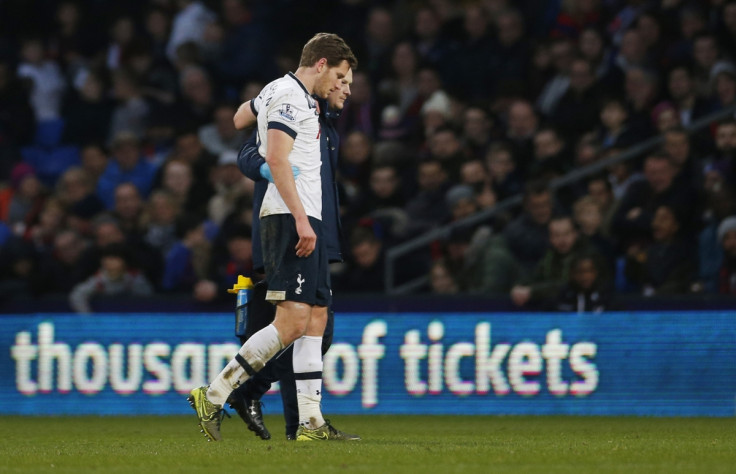 Tottenham Hotspur centre half Jan Vertonghen is hopeful of returning from his knee ligament injury before the end of March. The 28-year-old suffered damage to his medial collateral ligament in a 3-1 victory over Crystal Palace on 23 January, having previously been ever-present in Mauricio Pochettino's Premier League starting XI.
Tottenham did not confirm an expected recovery date following the injury but the Belgium international says he is already walking without a knee brace and has set himself a target of returning to full training during the next international break in the last week of March.
"They [the medical team] always give you a timeframe to come back and the target of the injured player coming back is always to beat that time," Vertonghen told Tottenham's official website. "I'm out of the brace now and I can walk again so I improve every day. It's hard work and it will take time.
"I'm aiming to be back around the international break and I want to be part of the team and help however I can. The lads support me a lot – they come and see me every day as well as the staff. I know I'm around the best people. The lads and the gaffer do everything to give me the feeling that I'm part of this team all the time."
In Vertonghen's absence, Tottenham have maintained their excellent form, which now sees them sat just two points off the top of the Premier League table, ahead of Arsenal on goal difference.
The former Ajax defender has watched on as his club have clinched crucial wins against Norwich City and Watford, a run that culminated in the dramatic win over Manchester City, and he admits watching on from the sidelines has been difficult.
"I want to be involved in those celebrations too," he said. "I see them cheering in front of the away fans at City, I see them playing well at home to Watford or away at Norwich and it's hard because, especially at times like this, you want to be a part of the team. That motivates me to come back as soon as possible."