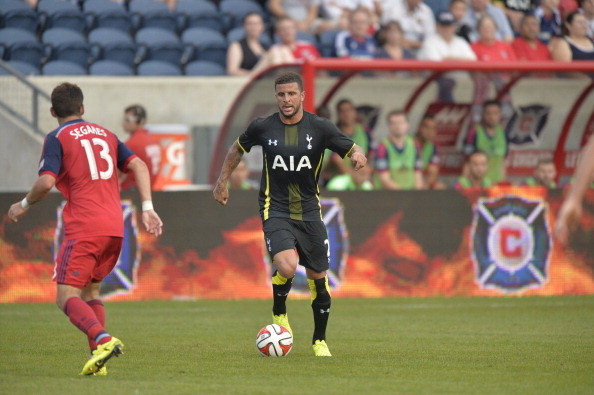 Tottenham Hotspur manager Mauricio Pochettino is set to receive a huge injury boost after reports claimed long-term injury Kyle Walker will return to training next week.
The English international right-back suffered an injury during the 3-1 home defeat to Benfica in the Europa League in March and has since been unable to play.
Having also missed the World Cup due to an abdominal problem, Tottenham announced in September that the defender had been even force to undergo surgery to address his problems.
With Pochettino claiming then that they were unable to narrow down a specific return date to action, some reports even claimed that the club was considering retrieving the £4m youngster DeAndre Yedlin earlier than planned – Spurs having loaned him to Seattle Sounders for the remainder of the current campaign in order to complete his development.
However Standard Sport claimed that Walker may return to action sooner rather than later.
The news will be a massive boost for manager Pochettino as Kyle Naughton has failed so far to make the impact expected during Walker's absence on the right-flank, while Eric Dier has been seconded to the flank several times despite being a centre-back.
According to the reports Walker is expected to join the Under-21 squad this week and should he make good progress he could re-join the first-team to prepare for the game against Hull on November 23 – after the international break.
Tottenham visit the Tigers in search for a much-needed victory after having only secured 14 points from the first 11 Premier League games of the campaign and following their fourth home league defeat of the season in the last Premier League game against Stoke City on Sunday.